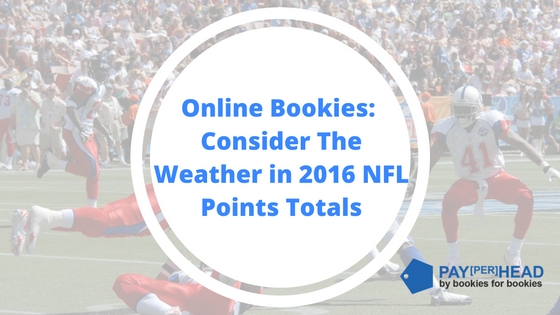 Week 1 of the 2016 NFL Season is in the books. Did weather have an effect on any totals? Check out why it's important for online bookies to understand how weather affects pay per head total betting on the 2016 NFL games.
Get even more useful advice from PayPerHead.com's Ultimate NFL 2016 – 2017 Guide, download it here.
2016 NFL games in domes
The fact of the matter is that NFL games played in domes almost always lead to high-scoring affairs. One of the reasons why is because NFL organizations build teams to have success depending on where that team plays.
The New Orleans Saints are known as a high-scoring offensive team. They almost always put up a lot of points. They did so in Week 1 versus the Oakland Raiders when New Orleans scored 34 points. The Raiders put up 35 to beat the Saints. The total of 69 points easily squashed the 50-point total.
Tampa Bay vs Atlanta went over the 46.5-point total when the Buccaneers and Falcons combined for 55 points. That game took place in the Georgia Dome.
It's a given that points will be scored when NFL teams face off in domes. Why?  Because weather isn't a factor in domes.
Online bookies shouldn't worry so much about the totals in domes. Eventually, the lines will adjust as the NFL Season wears on so that totals in dome games reflect what is likely to be scored.
Per head agents should just make sure that they have max bet limits set on all total wagers for NFL games.
NFL games in the great outdoors
In most cases, NFL games played outdoors yield lower-scoring games than those games played indoors.
A case in point is the game between the Baltimore Ravens and the Buffalo Bills in Week 1.  Baltimore beat Buffalo 13 to 7. The score ended up 24.5 points under the 44.5-point total.
This isn't always the case. Sometimes an outdoor game yields a ton of points. Green Bay beat Jacksonville 27 to 23. The total scored was 50 points. That went over the game total of 47 by 3 points.
Online bookies and pay per head agents only need to know that the main difference is wind speed and temperature. Wind speed often times occurs in cold temperatures. When the wind speed is up, it's hard for quarterbacks to throw the football. When wind speed is down, like it was in the Green Bay vs Jacksonville game, quarterbacks have much more success.
Online bookies just need to be aware of this fact. As with all total betting, the longer the 2016 NFL Season wears on, the stronger the total lines are going to be. That puts total betting in the favor of pay per head agents and bookies. Learn more and make more, download PayPerHead.com's Ultimate NFL 2016 – 2017 Guide here.