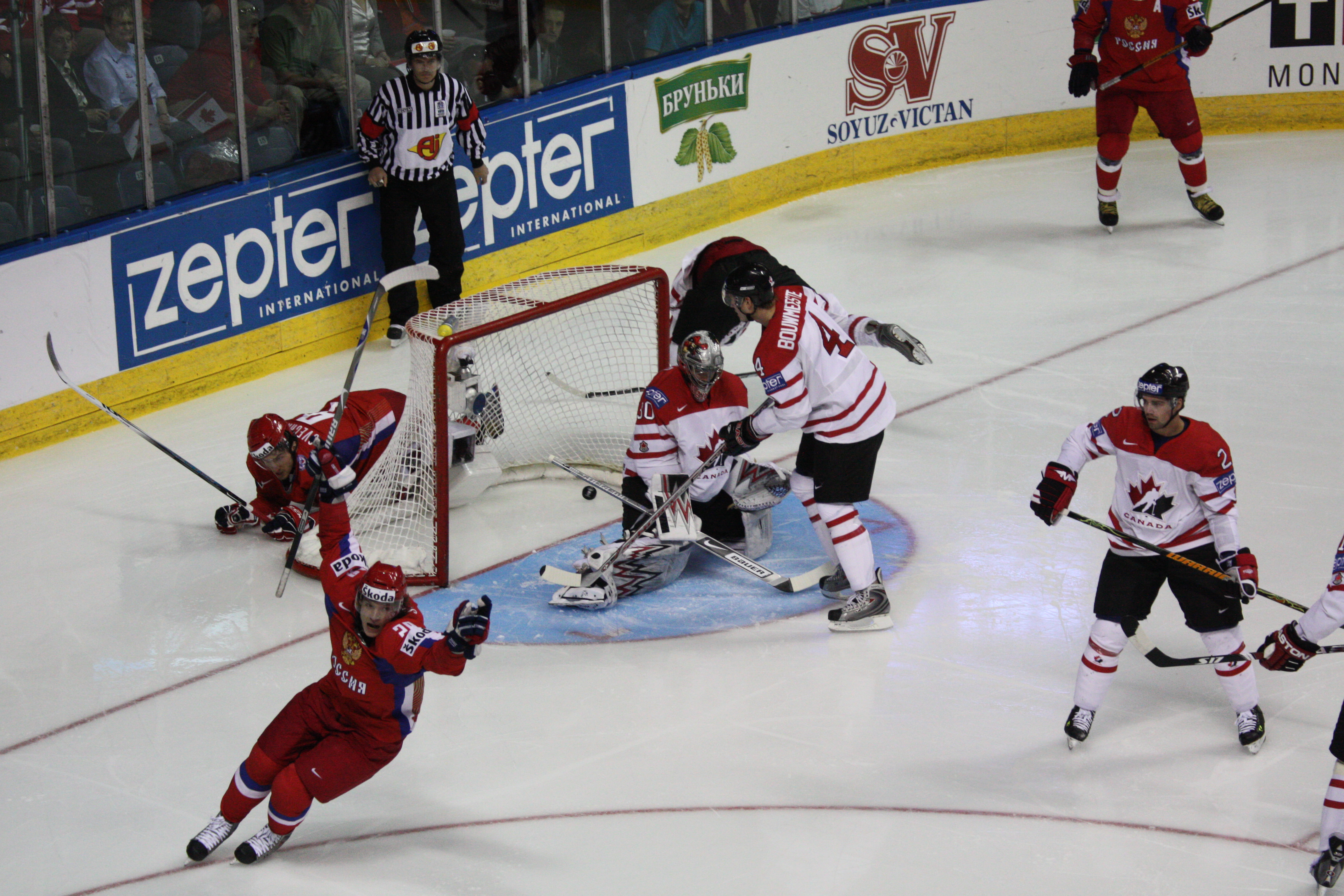 The world cup began 10th of May in Slovakia, and as always, the big four are favorites to take the World Cup. The four teams being Russia, Canada, Sweden and the United States. We are a couple of games into the world cup, and though Canada is slightly smaller favorite and Sweden a slightly bigger favorite, we still have to see how it all pans out.
Russia
Russia was the favorite before the world cup began, and after winning their first 3 matches, they are even bigger favorites. The team has Ovechkin, Malkin, Kucherov, Dadonov, Kovalchuck, Vasilevski and Kuznetsov ready to play for the Russian team. So, their team is definitely ready to do some damage in the world cup.
3 players from the Tampa Bay team, which won 60 out of 82 matches in the regular season, 3 players are from Washington, the current Stanley Cup champions and of course top players from the two best Russian clubs CSKA Moscow and SKA St. Petersburg.
The moneyline before the world cup began was around +250 for the Russians to win, and it sits at +200 currently. Not a great bet exactly, but they do look sharp. A safer bet would be playing casino on online slot machines.
Canada
Canada's team purely consist of NHL players, and most names will ring a bell. Matt Murray, Sean Couturier, Mark Stone, Jonathan Marchessault and John Tavares are probably the best from their squad.
Canada lost their first match against Finland, which could be a dark horse for a final. Canada is not looking as good as first expected, and before the beginning of the world cup the Canadians had a moneyline around +300, which lies around +500.
This is interesting, since the Canadians more than likely will bounce back again. Finland is a tough opponent, and the Canadians shouldn't be ruled out just yet.
Sweden
The reigning champions from Sweden has a very interesting team despite a lot of players chose not to attend the World Cup. Will they be able to replicate the success from the last world cup? I doubt it!
Lundqvist, Ekholm, Pettersson, Eriksson, Lindholm, Ekman-Larsson, Hornqvist and Nylander are some of the most important players on the Swedish team, and even though the team look strong, they lost their first match against the Czech Republic.
The moneyline started out around +400 before the world cup, but now it lies around +350. I think this is too low for a team, that lost to a much weaker team from the Cech republic.
USA
The States bring an interesting team to the table, with many known players such as Eichel, Ryan, DeBrincat, Gaudreau, Kreider, Keller, Suter, van Riemsdyk, Larkin and Patrick Kane. They have a promising offensive, and their defense is alright.
USA lost their opening match against Slovakia and managed to get a win in OT against Finland. This means that the moneyline hasn't moved much and still lies around +500.
This is a decent odds I think and worth a shot. Don't rule the states out. Losing to the hosts is no shame, and it is very early in the competiton.
Finland
Finland is a decent pick as a dark horse. Their team sheet looks relatively weak compared to their usual squad. However, they managed to grab a win against Canada and Slovakia, while losing to USA in OT.
Their first 3 games had tough opponents, and the fins managed to put in a good effort. Their moneyline sits around +800 at the moment, and if you're looking for a spicy bet – this might be it and maybe even better than putting your money on casino games.
Summary
My best pick would be Canada, USA or Finland. Russia is obviously a favorite, but you won't find much value in them at the moment. Sweden currently has a very low moneyline, and I think it is too low. Canada and USA look like decent bets, while Finland could land a surprise. See more stats here
It is, however, still early and a lot of things can change in the coming games.