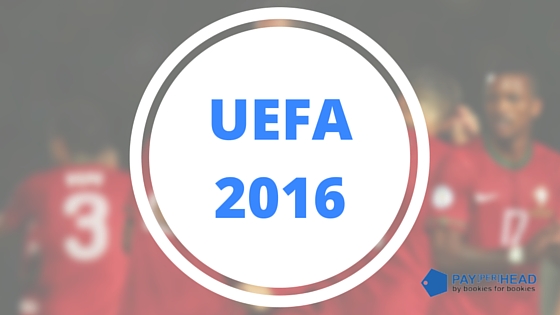 UEFA 2016 is in its final week. Only one underdog team made it to the UEFA final four but lost to Portugal yesterday, that underdog was Wales. Online bookies need to be aware of what their players will be betting for UEFA 2016 this week.
After UEFA 2016 it's time to get your books ready for the NFL season that is just around the corner. Get PayPerHead.com's NFL $3 Per Head Kick-Off deal all-summer long.
Semi-final Update
Wales dominated a heavily favored Belgium team 3 to 1. France destroyed Iceland 5 to 2. Portugal beat Poland 5 to 3 in penalty kicks while Germany beat Italy 6 to 5 in penalty kicks.
Wales is out of the competition, with a defeat of 2-0, when they played Portugal yesterday.
Today Germany and France will be playing today, but with both teams being the favourites of the UEFA 2016, for now these two teams will be included into the UEFA 2016 final preview we have below.
UEFA 2016 Final Preview
Germany 7/4
The Germans are without Mario Gomez for the rest of the tournament. But this is Germany. They dominated Italy in every way save for on the scoreboard. Bookies should expect the action to be furious on the Germans to win UEFA 2016 this week. It's hard to see Muller, Schweinsteiger, Ozil and Kroos not coming up big against France in the semis.
France 7/4
France has 3 awesome goal scorers in Griezmann, Giroud and Payet. Now, analysts can throw Pogba into the mix. The French dominated Iceland in the first half. They appeared to lose their concentration in the second half of their 5 to 2 win. They're going to have to be much better in order to beat Germany in the semi-finals.
Portugal 7/2
Portugal has been smart on the pitch. He could carry that fire into the finals against either Germany or France. The bottom line regarding Portugal is that the team is expertly managed by Fernando Santos. Santos knows what sort of team he has. He doesn't force the issue. He plays defensively. He has his players take shots when they can. The Portuguese are incredibly disciplined, which makes them a tough out in the semi-finals.
Whoever wins today's semi-final match between Germany and France, you can expect your books to fill fast before the finals start on July 10th.
Your players are starting to get ready for NFL season and so should you. Start the NFL season with PayPerHead.com's $3 per head pricing that's only available all-summer long before the NFL season starts. Don't wait grab this deal today.