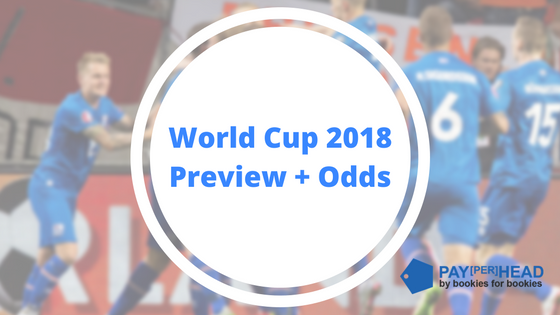 Three intriguing Soccer 2016 World Cup Qualifiers take place this weekend. These three games are, no doubt, going to be the choice of soccer bettors.
Below, online bookies and per head agents can read about all three of the biggest World Cup Qualifying Matches over the weekend.
Croatia vs Iceland
Croatia is the favorite at -1, -150. The Croatians are -240 on the moneyline.
The odds could change before kick-off on Saturday.
Bookies should be reminded that Iceland was the surprise team in this past summer's UEFA Euro Championship.
The nation of roughly 300,000 made it all the way to the quarterfinals where they lost 2 to 5 to France.
Iceland dominated 2 to 1 in the Round of 16. Some in England were calling the loss worse than any in English Soccer History.
Iceland is at +1, +120 on the handicap. They are also at +750 on the moneyline.
It's doubtful more than a handful of players bet on Croatia at -1, or even on the moneyline at -240.
PayPerHead.com agents should pay attention to wagers on Iceland on the moneyline.
Bookies and agents should use the PayPerHead.com's mass editing tool to set max betting limits on Iceland at +750 for all players. That's what the tool is there for.
Wales vs Serbia
Wales also showed up big time at the 2016 UEFA Euro Championship.
Behind the terrific play of Gareth Bale, the Welsh made it all the way to the semifinals where they lost 0 to 2 to eventual UEFA Euro Champion Portugal.
Most soccer bettors no doubt haven't forgotten how well the Welsh played at the 2016 Euro Championships.
This is a pick match on the handicap. Wales is at +140 on the moneyline. Serbia is at +210.
Max betting limits should be set on the moneyline for both teams.
In addition to that, PayPerHead.com agents should be ready to use their layoff accounts if either side garners too much action.
Luxembourg vs Netherlands
The final match this weekend that should draw a lot of betting interest is Luxembourg versus Netherlands.
Although Luxembourg is a huge dog at +2, -110 on the handicap, the match could be more competitive than the odds indicate.
The Netherlands will be an attractive play for soccer aficionados considering that the odds are -2, -120.
Hopefully, Luxembourg versus Netherlands is the weekend match that attracts action on both sides.
If that doesn't happen, online bookies should sign up for a layoff account through a pay per head agent.
As a bookie, you'll be ready for the big soccer games that will be happening this weekend and have a chance to profit from it.
The industry-leading per head premium software at PayPerHead.com is what online bookies need to grow their online business. Get it for a discounted price of $6.50 per head for a limited time only.