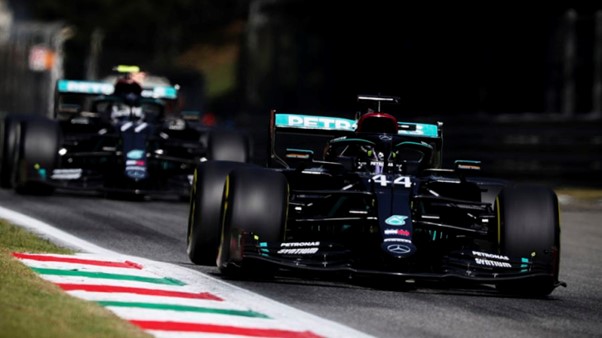 It has been an exciting few weeks in the world of Formula 1 as a number of records were broken, setting a future milestone for future drivers and teams alike – the first was Lewis Hamilton capturing the record number of wins sitting now at 93, beating out the legendary Michael Schumacher who is at 91 – with the closest active driver in Sebastian Vettel at 53, it looks like it will certainly be some time before Hamilton's record is broke. The latest has been for Mercedes, as the Mercedes 1-2 at Imola secured the seventh consecutive constructors championship title for the team, something certainly to stick around for some time yet too as the other constructors are largely on even fitting with Mercedes being the clear outlier.
The big news abuzz is around both Lewis Hamilton and Mercedes team principle Toto Wolff and it seems there could be big changes very soon – although neither have signed a renewed contract it is expected they both will, but both have hinted at perhaps stepping away. For punters and bookies alike this could certainly breath some new life into the sport which has been largely dominated for the past seven or eight years, although there have been adjustments to certain regulations making participation a little difficult, odds-checkers across different platforms help determine where to wager and it is a useful resource at Casinos not on Gamstop with many bets and odds now pointing towards changes that could come to the team and could shake up the F1 grid.
It has been known for some time that Toto Wolff would like to take a break and focus on spending time with his family after a number of years on top and taking home the constructors title again this year will certainly encourage that change – but playing such a vital role in the success of the team it may bring  questions into how successful the team will be without Wolff at the helm. After taking home the record for the most number of wins in F1 history, Hamilton had also started alluding to the fact it may not be long before he also retires, he has assured fans that he will be racing in 2021 but the time after that may be unknown – on track to take home another drivers title this year, it will be interesting to see if the passion for winning still remains after any announcement is made.
If Hamilton does retire at the end of the 2021 season, however, it does provide a lot of excitement on the grid. Both Valtteri Bottas and Max Verstappen have looked extremely competitive, with Charles LeClerc and Daniel Ricciardo also having moments of brilliance – new drivers coming in 2021 including Mick Schumacher could also bring a lot of surprise to the grid too and could see things shaking up with a much more competitive title race. Either way, it certainly seems the end of an F1 era is on the way, and a more competitive future could be very close.