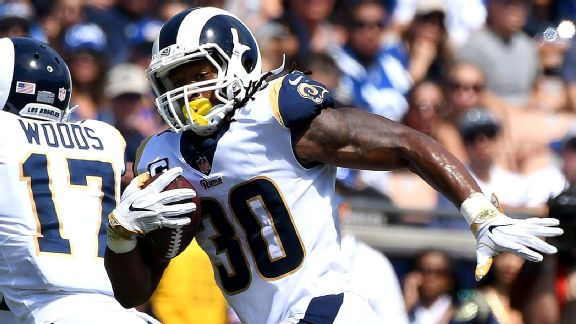 The Los Angeles Rams come into this year's Super Bowl as a 2 ½ point underdog and that's exactly where they want to be. No hype to live up to and no demands, just football. Fantastic football is what these Rams have shown us all season long as they head into this matchup with a 13-3 regular season record and coming off the biggest win of their lives in New Orleans.
Game: New England Patriots (11-5, 9-7-0 ATS) at Los Angeles Rams (13-3, 7-7-2 ATS)
When: 6:30 PM ET, Sunday, February 3rd, 2019
Where:  Mercedes-Benz Stadium, Atlanta Georgia
Current Line: Rams + 2 ½ | Money Line +120 | Patriots – 2 ½ | Money Line -140 | O/U 57.5
TV Coverage: CBS
Build Your Online Sportsbook Betting Plan for Super Bowl LIII
For a moment, forget about the spread, forget about the network talking heads and look at the real numbers. What have the Rams done for us lately? This is what really matters. Sure, we all love Jimmy Johnson and Terry Bradshaw but here is the problem, they never look at hard numbers and if you follow these types of analysts, you will find that although these men and other like them were once fantastic NFL minds, they are not very good at choosing sides! It's time to ditch the noise and look at the numbers and give yourself a shot in this game. This is the year to finally lay the wood to your online sportsbook and walk away a winner!
Rams Offense—
The Rams are scoring 32.9 points per game and putting up 421.1 total yards of offense. They have averaged 281.7 yards passing (5th) and 139.4 yards rushing, (3rd). They are second overall in the NFL on offensive output.
NFL Playoffs – Special Props: A Great Way to Bet and Win
Jared Goff played in all 16 regular season games in 2018 and went 364/561 in passing attempts for a 64.9% completion rating. He amassed 4, 688 passing yards on the season along with 32 touchdowns and 12 interceptions, for an overall QBR -66% and RTG, 101.1%. the guy can flat-out ball! Every once in a while, he has a flat moment or two, what quarterback doesn't? This man, is still a kid and in his 4th year as a pro. He has proven his worthiness as an elite NFL quarterback and his time to shine is now, against a team that finds a way in, almost every single year, the Patriots.
How To Bet Super Bowl Props Wisely and Have Fun (and Not Blow Cash)
The Rams have faced challenges all season long and they have battled them nicely. Take the NFC Championship game as a great example. The Saints had the Rams on the ropes in the first quarter, they had four opportunities in the red zone and things looked bad. The Rams came out flat in that game and a lot of this was pure adrenalin on the part of the Saints. Drew Brees and company were ready, but not really ready for this Rams defense. The Saints came away with 1 touchdown in that first quarter with 4 red zone visits and even had a pick against the Rams that placed them squarely in scoring position, they couldn't get it done.
The Rams defense allows points, nobody is saying this unit is an elite squad that will turn the lights out, but what they are capable of is closing the door in the red zone. They proved it in New Orleans.
Build Your Online Sportsbook Betting Plan for Super Bowl LIII
This game has all the makings of a classic and all the makings of yet another loss from the Patriots. Of course, they are favored. Tom Brady is on the team. Tom Brady my be the best ever but he certainly hasn't won them all and he can be beaten in this game.
The Rams offense will click against the Patriots defense. Goff will go pound for pound with Tom Brady and the receiving core will outplay the Patriots. The running game will match Mitchel against Gurley, this will be a great contest and Gurley should take this one in a close battle.
Americas Bookie – Your Friendly All-Inclusive Sportsbook
This game will come down to the wire and will no doubt be a close one, but the Rams outscore the Patriots and the defense is better in the red Zone. In the end, the value lies with the Rams at +2 ½.