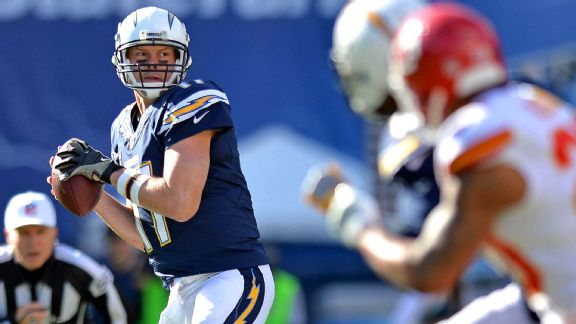 The Chargers have won two in a row after losing three in a row and they started the season out by beating the Colts, then losing to Detroit and Houston, beating Miami, then losing to Denver, Pittsburgh, and Tennessee. This team is all over the map, but we know one thing for sure, they love playing the Raiders and, in this matchup anything can happen. This rivalry is old and goes all the way back to the "old" Oakland days and certainly the good old LA glory days. The oddsmakers know this will be a battle and the line reflects that with -1. The Chargers may be the better team on paper but that means nothing in a game of this nature. Get in with a teaser, maybe even a parlay for this one. Call your favorite bookie and get the money in for a fun one.
Los Angeles Chargers vs. Oakland Raiders Preview and Prediction
The Raiders are close on the numbers giving the slight passing edge to Rivers, but they certainly have the edge on the ground. The defense is neck and neck and we like the over for that reason. These two will be forced to outscore each other. What do we mean? One doesn't have the other on the ropes nor will they. This game is going to be close.
Phillip Rivers check in with 2609 yards on the season. This guy is tough, and he fights for his yards, but he is not a "gamer". He doesn't have it. As good as this man is, he is not a "big-gamer". On the other hand Carr, for the Raiders, just might be the "gamer" that the Raiders have been looking for.
America's Bookie – Sports betting Bonuses and Benefits
Listen, sooner or later, John Gruden will have this team playing like a confident winner. It's a matter of time. It will happen. The Raiders have decent defenders but even better is Jacobs with 740 rushing yards to Ekeler's 321.
What the online bookies are looking for in this one is a fast Chargers start, and a Raiders "grind it out". The "grind it out works, however, if in case it doesn't work, you can blame that on the Chargers defense. Listen; let's cut to the chase on this one… As we said, we look for this one to go toe-to-toe. These two both need to win this game if they want to threaten Kansas City. They both need to pick up the defense and Rivers needs to take responsibility for his own mistake and quit blaming his teammates for everything that goes wrong.
Advantages of betting at America's favorite online bookie
They will get their act together. The last two weeks have proven this to be true with outright wins over Chicago and Green Bay. The Chargers are well-coached, and they finally have a plan that works. Rivers will throw all night, so they need him to be golden. This will force the Raiders to the air as well. Here is the problem, and the bookies know it's a problem. Who knows which way to go?
We like over 49 total.