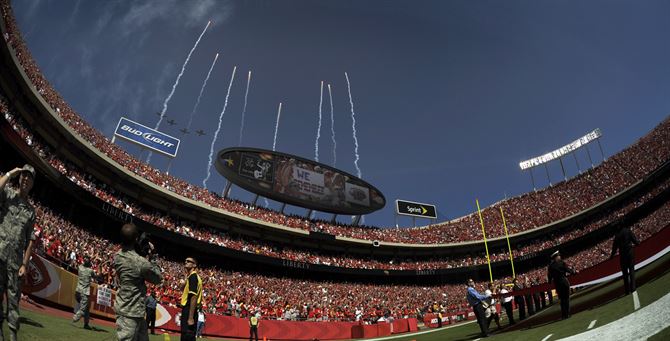 Are the Denver Broncos flying high to Kansas City this Sunday after snapping a four game losing streak in Phoenix? This matchup is one of the best rivals in all of the NFL and even sports, the fans love it, the players love it, TV loves it, we all love it. This year may be different; in the past, the Broncos have stayed neck and neck with the Chiefs, however, this year they have been pretty bad and the Chiefs have been exceptionally good.
6 ADVANTAGES OF BETTING AT AMERICA'S FAVORITE ONLINE BOOKIE
The offshore bookies have no idea where to go with some of these games. Sure the Chiefs have been winning big, with exception of the Patriots game. Here is the deal… Good teams go on the road and get big wins, the Chiefs did not get the big road win and this organization invariably does this, year in and year out nothing ever seems to change. The chiefs looked amazing last year and look what happened to that pipe dream! We are certainly not saying this isn't the Chiefs year and Patrick Mahomes looks like a stud! The Chiefs have found their guy at the quarterback position. The Chiefs are still a good buy as a "future prop" be sure to check this number out with your favorite bookie, it could very well end up being worth your time.
What about this game? The oddsmakers seem to have forgotten all about this rivalry. Don't forget one very important point; the Broncos had the Chiefs beaten earlier this season in Denver and the last two minutes got away from them. Unfortunately for the Broncos, Vance Joseph seems to be learning as he goes. Really, there is still a "deer in the headlights" sensation. When will this guy understand the art of coaching? Maybe never! He does look awful at times and the amazing thing. Elway seems complacent.
Referring Friends to your Sportsbook – Fantastic Way to Earn extra Bonuses
Mahomes has put up staggering numbers with more than 2200 passing yards and 22, count them—22 TD's! The Chiefs have never had this kind of production from any quarterback in their long and illustrious history that even includes a stint with Joe Montana! Another thing that we are not saying is that Mahomes is the next Joe Montana but give a talented young man a football and one that is determined to follow his dream; you never know.
Euro Sportsbooks vs North American Online Sportsbooks Is There and Advantage | Who's Better and Why?
Mahomes has weapons and this makes him deadly. With names like Hunt and Hill, this team has to be a force in the AFC, as a matter of fact, if we had to choose an AFC Championship Game right now, wouldn't it have to be the Chiefs vs. Patriots? Who else has impressed like the Chiefs? This team is well coached and although Andy Reid receives a mountain of flack for having never gotten it done in Philly, that's all behind him. He was a great coach there and he is a fantastic coach in KC. Sooner or later, he will be back in the dance and why not this year.
The Broncos are a franchise that is in desperate need of finding themselves and the more they struggle, the worse it seems to get for this group of guys. Keenum was brought in with hopes of being the savior. The big arm was supposed to be able to do it all. Not only has it not done it all, it has done very little.
How to find an online sportsbook – Can you Trust Sportsbook Review Sites?
Emanuel Sanders has a quarterback rating of 158.3 and a 100 % completion rating! No, you did not read this wrong. There is a big catch' (no pun intended) …  the catch is, Sanders has I pass on the year that was completed for a touchdown. Keenum has 8!
The Broncos can't get much worse and after a 45-10 win over the Cardinals, maybe they will be motivated to avenge the KC loss in Denver. The Chiefs are too good, the Broncos may hang around early but in the end this one could be a bit of a runaway.
Prediction: Chiefs 34 Broncos 24