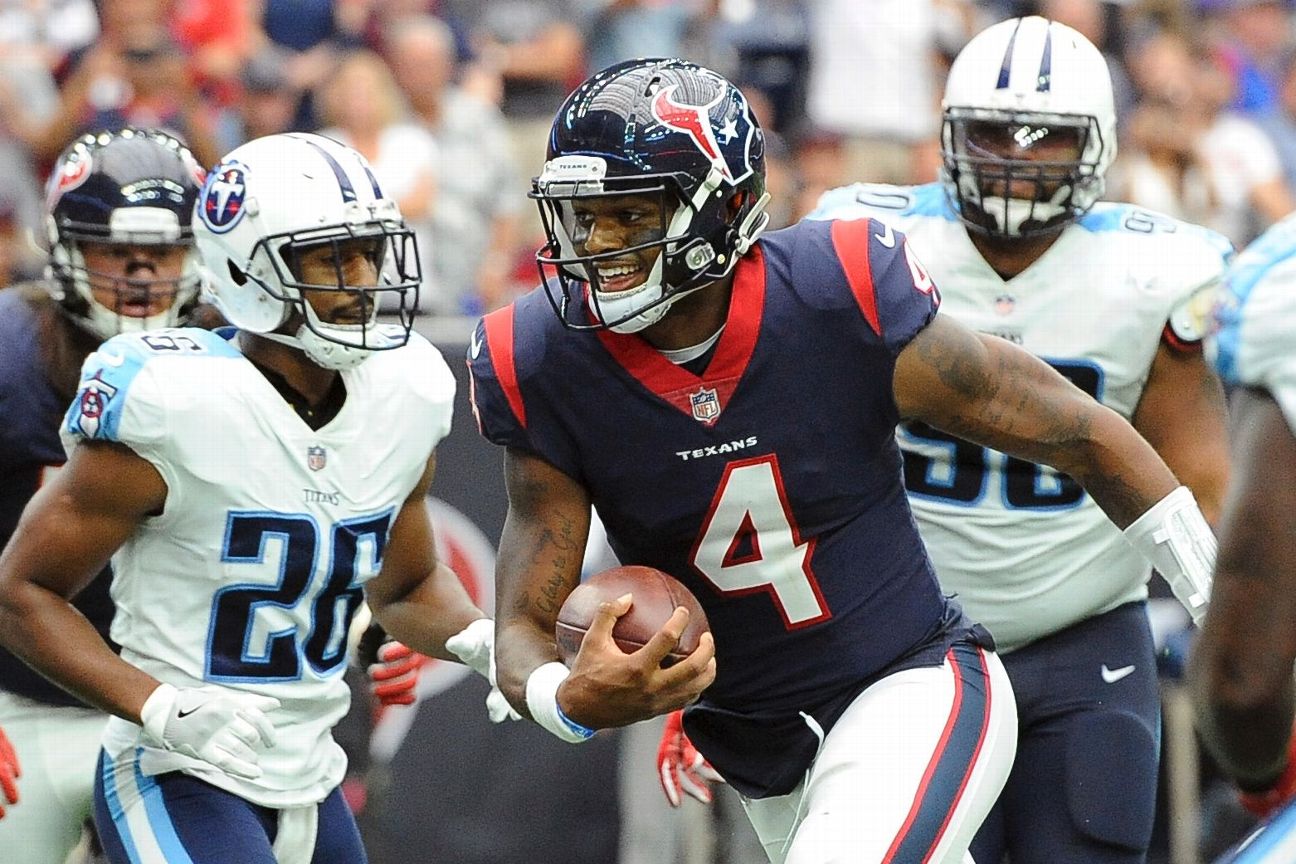 Open an Account at Bovada Sportsbook Now! Sign up at Bovada.lv to get a $250 Signup Bonus to bet NFL Football odds and props!
Deshaun Watson hasn't played a full NFL season yet, but that hasn't stopped the odds makers from making him the most likely to lead the league in interceptions. Watson enjoyed an impressive NFL rookie campaign that was cut short by season-ending knee surgery. He returns in 2018 as the +500 favorite on the odds on leading the NFL in interceptions this season.
Watson came onto the scene last year, throwing 18 touchdown passes in his first five games, and was considered an early favorite at garnering NFL MVP honors. His downfall during his brief rookie season was that he threw eight interceptions in seven appearances prior to getting hurt. Watson was prone to the pick while at Clemson, where he tossed 17 of them two seasons ago in his final collegiate season.
Despite Watson's long history of throwing interceptions, he still gives the Texans a great chance to compete for a postseason berth. Look, Brett Favre threw a lot of picks, and look what he accomplished. Houston will open camp as a strong +185 bet to win the AFC South division title, while also sporting +2200 Super Bowl odds.

Watson is not a give to lead the lead in interceptions, as a handful of quarterbacks are right behind him. Pittsburgh's Ben Roethlisberger and Miami's Ryan Tannehill closely trailing, deadlocked at +550, followed by Eli Manning (+700) and Cam Newton (+750).
Big Ben throws the ball a ton, which is why he always ranks near the top of the league in interceptions. Last year, he compiled 4,251 passing yards and 28 touchdown passes, but ranked fourth in the NFL with 14 interceptions, and has thrown at least 13 picks in four of the past five seasons.
Tannehill missed the entire 2017 season after suffering a knee injury in training camp, and tossed 12 interceptions in each of the previous three seasons, and a career-high 17 in 2013. With a full season of health, Tannehill could be in line for a lot of picks. His Miami team is a long +475 bet to earn a postseason berth in 2018.
Manning struggled with a dismal New York Giants squad that won just three games in 2017, but threw just 13 picks, marking the lowest number of interceptions he has thrown in a season in nine years. A three-interception game to close out the regular season left Newton trailing only Cleveland Browns rookie DeShone Kizer with 16 interceptions.
Further down the NFL interceptions prop bet, a trio of passers sit at +1400 each, including Tennessee's Marcus Mariota, Philip Rivers of the Los Angeles Chargers, and the second overall pick in the 2017 NFL Draft, Mitch Trubisky of the Chicago Bears. Indianapolis' Andrew Luck and Kansas City's Patrick Mahomes each sit at +1800, while Baltimore's Joe Flacco is pegged at +2000.