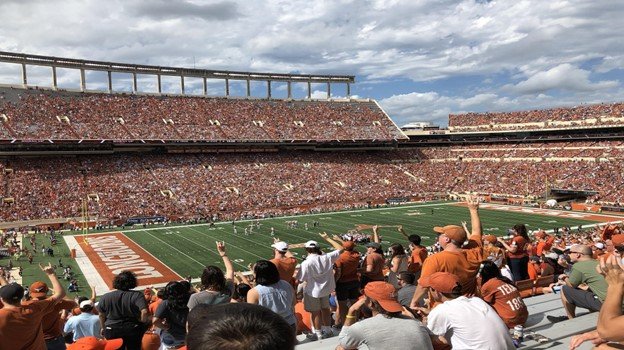 Apart from the excitement of watching the matches and cheering your favorite teams to victory, the new season presents an opportunity to place some college football bets.
However, college football betting was not legal until a few years ago when the Supreme Court struck out PASPA, an old law that banned sports betting in all but a few states. Even at that, many states have different regulations and restrictions, making navigating the college football landscape very difficult.
As usual, every new season brings in some new bettors willing to wager on college football. Since betting on college football is not legal in all the states, you may want to know which states you can legally bet on college football this season. Even if betting is legal in your state, some types of wagers may be illegal.
States Where It Is Legal To Bet On College Football
Although sports betting may be legal in your state, there is no guarantee that college football betting is too. However, if you're in a state where sports betting is legal, chances are that it most likely is as well. Here are some of the states where wagering on college football is legal without any particular restrictions:
Arkansas
Maryland
Michigan
Nevada
Pennsylvania
West Virginia
Wyoming
Ohio hopes to join the list of states above when they launch sports betting soon. Louisiana has a different type of sports betting law. There, sports betting laws differ from parish to parish.
In Mississippi, Montana, Nebraska, and North Carolina state, college football betting, including props, is legal. However, you'd have to place them in a retail book. Arizona, Colorado, Indiana, and Iowa states allow mobile and online college football betting but don't allow prop bets.
Tennessee and Virginia states allow online college football betting and prop betting before kickoff. However, in-game prop betting is not authorized.
States Where Betting On College Football Is Illegal
In Connecticut, Massachusetts, New Jersey, New Hampshire, New York, Washington DC, and Wisconsin, betting on college football is legal, as long as it does not involve an in-state team.
However, Connecticut and Massachusetts have some exceptions. In Connecticut, you can place a futures bet on an in-state team. Massachusetts also allows betting on in-state college teams only when they play tournament matches. Washington, DC, disapproves betting on college matches within district lines, even if any of the teams involved are in DC.
Although sports betting is legal in Oregon, the state does not allow college football betting. This ban is reasonable because despite the state being the home to the Oregon State Beavers and Oregon Ducks, it does not house any professional football team. Because no neighboring state supports sports betting, Oregon residents who are college football enthusiasts have limited options to bet on college football. Candidly, their best option would probably be to travel to Colorado, Montana, or Nevada.
Then, of course, you can't bet legally on college football in the states that haven't legalized sports betting. Some of the states in this category include; Alabama, California, Georgia, and Texas.
States Where Betting On College Football Is Complicated
College football betting comes with complications in some states. Such states include Illinois, New Mexico, and North Carolina. Until recently, betting on any college sport was illegal in Illinois. Now, the laws have been relaxed a bit. Illinois residents can wager on college football, including those involving in-state teams. All they have to do is go to a retail book to wager. Even at that, prop betting is still illegal. However, these regulations are set to expire on the 1st of July, 2023, unless they seek an extension.
In New Mexico, no law bans placing wagers on college football teams outrightly. However, online sports betting is still illegal in the state. In North Carolina, sports betting is also restricted to in-person tribal casinos.
Conclusion
College football is fun and profitable to wager on and make real money after winnings. We believe you now know the states where you can fulfill your college football betting goals. Remember not to ruin the fun and bet with caution.