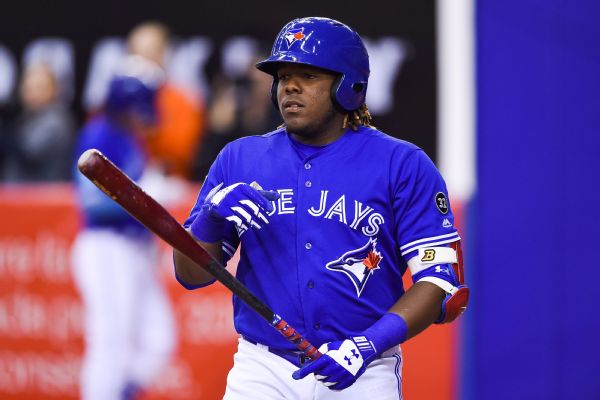 Open an Account at Bovada Sportsbook Now! Sign up at Bovada.lv to get up to a $250 Deposit Bonus and to bet all the Web's best MLB Baseball odds and props!
The MLB All-Star Break is here which means the mid-summer classic and of course, the Home Run Derby. Ball have been flying out of parks all season and we're sure to see some long home runs at Progressive Field in Cleveland Monday night. Bryce Harper is the defending champion, but won't participate this year. Here are the rules:
There are eight players broken down into bracket form, seeded 1 through 8. It's single elimination. Because defending champion Harper is not returning for the Derby and will not claim his No. 1 seed, the seeds were determined by 2019 home run totals entering Wednesday's play. Tiebreakers were determined by home run totals since June 15, as stipulated in the Collective Bargaining Agreement.
It's a single-elimination bracket system with three rounds total. In each bracket, the higher seed hits second.
Batters will have four minutes per round. It should be noted that once the second player in a given round exceeds the home run total of his opponent, the round ends. There is no need for a player to add to his tally. After the first round, the winner of the Yelich-Guerrero matchup will meet the winner of Bregman-Pederson. On the other side of the bracket, the Alonso-Santana winner faces the Bell-Acuna winner. The two players left standing will meet in the final round. 30 seconds of bonus time will be awarded for hitting at least two home runs that each equal or exceed 440 feet. Ties in any round will be broken by a 60-second swing-off with no stoppage of time or additional time added. If a tie remains after the swing-off, batters will engage in successive three-swing swing-offs until there is a winner.
Our predictions on who will win are below. Enjoy the Home Run Derby!
CLICK HERE TO BET THE HOME RUN DERBY
**** No. 1: Christian Yelich, Milwaukee Brewers
Home Runs: 31 | Longest of '19: 462 feet | Odds: +350
**** Will be replaced by Matt Chapman, Oakland A's
Home Runs: 21 | Longest of '19: 441 feet | Odds: +750
No. 2: Pete Alonso, New York Mets
Home Runs: 28 | Longest of '19: 458 feet | Odds: +450
No. 3: Josh Bell, Pittsburgh Pirates
Home Runs: 26 | Longest of '19: 474 feet | Odds: +400
No. 4: Alex Bregman, Houston Astros
Home Runs: 23 | Longest of '19: 440 feet | Odds: +850
No. 5: Joc Pederson, Los Angeles Dodgers
Home Runs: 20 | Longest of '19: 445 feet | Odds: +700
No. 6: Ronald Acuna Jr., Atlanta Braves
Home Runs: 20 | Longest of '19: 466 feet | Odds: +800
No. 7: Carlos Santana, Cleveland Indians
Home Runs: 19 | Longest of '19: 447 feet | Odds: +1000
No. 8: Vladimir Guerrero Jr., Toronto Blue Jays
Home Runs: 8 | Longest of '19: 451 feet | Odds: +500
CLICK HERE TO BET THE HOME RUN DERBY
Jay Cooper's Pick: Bell +400
Bobby Babowski's Pick: Guerrero Jr. +500