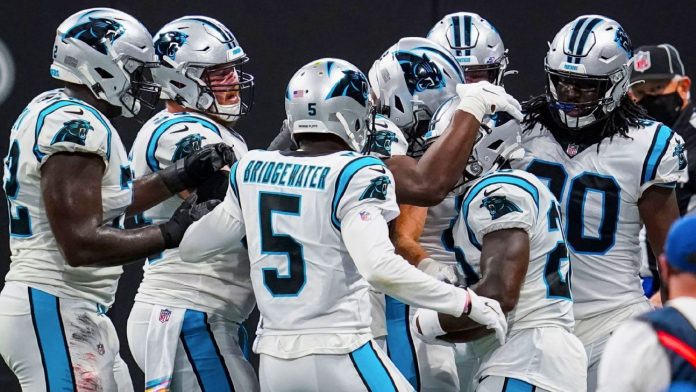 Courtesy of Realbookies.com
The Chicago Bears are 4-1 and are coming off a win over Tom Brady and the Tampa Bay Buccaneers. Yet, they can't seem to get any respect as they will face the Carolina Panthers Sunday as 2.5-point underdogs. Meanwhile, the 3-2 Panthers have won three in a row behind quarterback Teddy Bridgewater.
PICK YOUR RELOAD BONUS AT 1VICE ONLINE SPORTSBOOK
Bad News Bears
The Bears have been outgained by 21 yards a game against a schedule with a cumulative record of 7-16. They're averaging 21 points a game in a league that's averaging almost 26. They're giving up 20 points a game.
Despite its record, Chicago benched its starting quarterback in favor of a career backup. That backup also happens to be a former Super Bowl MVP. They've allowed 11 sacks in five games.
They've also held opposing quarterbacks to a completion rate of 57.3% and are second in the NFC North with a record of 4-1. They're the Chicago Bears, and they can't seem to get any respect, but they keep on winning.
The New Panthers
Carolina parted ways with coach Ron Rivera last year as well as former franchise quarterback Cam Newton. Rivera was replaced by former Baylor coach Matt Rhule, and Bridgewater is resurrecting his career. Together, the smarter bettor can see they are also resurrecting a franchise.
The Panthers are giving up over five yards a carry to opposing teams but making up for it on offense. Bridgewater has thrown for 280 yards a game and completed 73% of his passes. Overall, Carolina is averaging just shy of 400 yards a game.
Currently, the Panthers are locked in a three-way tie with Tampa Bay and New Orleans atop the NFC South. That battle could last all season, so this game against the Bears could be critical come playoff time.
Betting Preview
The Panthers are 3-2 against the spread, with their three wins coming as underdogs. The Bears are also 3-2 against the spread, and they also have three outright wins as underdogs. Both teams have been underestimated most of the season and will be fighting for this win.
The over/under is set at 44 at your online sportsbook, which is just about the average score of both teams' games. The Panthers are 2.5-point favorites, but their average margin of victory in their wins is just over seven points. The cumulative record of the teams they've beaten is 4-11, so neither team has faced an overwhelming schedule.
The Bears have been beaten statistically in almost every category this season, but they've found a way to go 4-1. They've benefitted from a soft schedule but are 1-1 against the best two teams they've faced. In short, this is a difficult game to handicap based on the performance of the two teams this season.
Betting Prediction
I've been on Chicago since the beginning of the season, predicting their victory over the Lions in Week 1. There is something about the Bears that defies statistics and explanation. That being said, top handicappers can see that the Panthers are on a significant run.
Carolina looks a lot like Indianapolis, the only team to hang a loss on the Bears so far this season. That was a 19-11 slugfest. I like the Panthers to cover in a low-scoring game. Take the Panthers, give the points, and bet the under. Courtesy of Realbookies.com