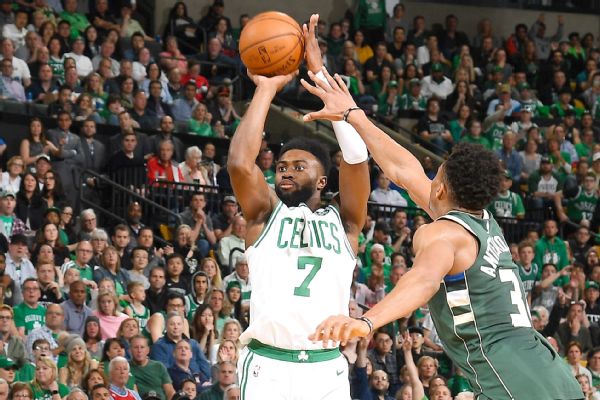 The Eastern Conference Semifinals switches to Boston on Friday as the Bucks try to follow up on their commanding 123-102 win in game 2 and take a series lead for the first time in this second round.
Giannis Antetokounmpo and the rest of the Bucks (+2-110 spread, o220-110 total, +110 money line) looked like the dominant team they were all season in that game. Antetokounmpo had 29 points and 10 rebounds, his best output of the series so far, and Khris Middleton contributed 7 of what was a playoff record 20 3-pointers in game 2 and finished one point behind Giannis with 28 points. Point guard Eric Bledsoe also impressed, scoring 21 points.
Game 3 is here, get ready to bet on the game by registering at Betmania.ag, enjoy the best basketball betting odds and prop bets. Betmania offers the best basketball betting bonuses, so make sure to register today.
All in all, the win was good news for the Bucks, as they returned to their dominant regular season form after letting Boston steal game 1 of the series.
"I think that's more what we're accustomed to seeing," Bucks coach Mike Budenholzer said. "I liked our spirit, our activity, our competitiveness all up and down the roster. Giannis and Khris and Bled really set a tone.
Boston (-2-110 spread, u220-110 total, -130 money line) meanwhile is going to have to pick up the pieces and go home. Kyrie Irving especially will have to find his game again; the point guard was held to only 9 points in game two after netting 26 in game 1. Critics say that it was perhaps the worst playoff performance of his career.
Apart from Irving, Boston desperately needs Jason Tatum and Gordon Hayward to start contributing. Tatum had 5 points and was 2 for 10, while Hayward was held to 5 points and was a -30.
Boston's Al Horford had a great game 1 scoring 20 points and 11 assists with no turnovers, and more importantly was vital in keeping Antetokounmpo off the scoreboard. He will also have to re-calibrate and return to that game 1 form if Boston is to have success in this series.
In a grim note, Celtics president Danny Ainge suffered a heart attack after game 2. He was treated in Milwaukee and will return to Boston where he is expected to make a full recovery.
For game 3, the Bucks will continue to be without center Pau Gasol but point guard Malcolm Brogdon is expected to come back from injury.
Throughout history, Boston has won five of six playoff series against Milwaukee. Notably, one of those victories was the 1974 NBA finals, which the Celtics won in 7 games. This year, the Celtics were 1-2 against Milwaukee, but only got outscored 231-221 through those three games.
Both teams are coming off first-round sweeps; Boston dispatched of the Pacers in 4 while Milwaukee made quick work of the Pistons.
Last year the Celtics beat the Bucks in 7 games of the first round. Boston went on to lose to Cleveland in the Eastern Conference finals. This year it is Milwaukee who is expected to go all the way. They finished the regular season with an NBA-best 60-22 record.