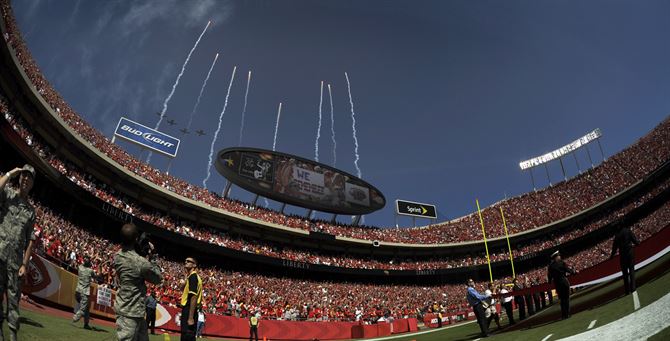 A team's support base can energize and refocus the player, so knowing which team has the best fans is a fantastic way to learn the Best NFL Fantasy Picks. If you are stuck between two players, using this list to help you gauge their crowd engagement, and therefore their morale!
1. New Orleans Saints
New Orleans is known as the party city, and it is a title well deserved! For a hot climate and tourist destination, New Orleans is one of the only cities that has a fanbase as energetic as the Super Bowl itself! 
The Saints' fans are not just a bunch of chaotic boozers though, they are devoted fans that scream for their player with every victory and every sorrow. When football season starts, you will see almost everyone wear a New Orleans jersey, and almost every gathering will include a detailed discussion about the game.
Football is part of their life, their music, their culture! Football is part of New Orleans city! 
As the team does well the mood in the area grows, and as the team begins to stumble, everyone in town feels the personal weight of disappointment. Every game played in the Superdome becomes a rock concert when New Orleans gets a chance to play!
2. Green Bay Packers
The Green Bay's fan culture is filled with cheer, legendary stories and a fortified franchise. Don't think that the Packers current amazing quarterback is the reason for the unending fan base, as the Green Bay fans have kept this strong spirit through decades of mediocre playing. 
The Packers don't really have access to a major city, and when they do play, the odds are that harsh weather will storm the field. Cheese hats strapped to their heads, this will not put the fans off! 
If you want to join a team filled with pure love for the sport of football, the Green Bay Packers is the fanbase for you! 
3. Cleveland Browns
Cleveland has had a lot of ups and down, and until 1999, their team had been left in the water. But a new history doesn't make the Brown's fans more timid, in fact they seem to be growing in intensity.
Jimmy Haslam, the current manager of the Cleveland Browns, may be making many other fans worry, but Browns fans have remained resilient in their adoration for the team. Lesser fans would have buckled and left from years and years of poor management and downright awful merchandise, but the Browns are a hardy bunch, and nothing seems to keep them down.
The phrase "make lemons out of lemonade" should be Cleveland's motto at this point!
4. Kansas City Chiefs
If you are gauging support through sound alone, then walking past the Arrowhead stadium mid-game is all you need to find your best-supported team. The Kansas City fans will use their force of noise to create a brutal environment for their opposing teams while lifting up and cheering on their own beloved players. 
If you want reliability and noise, then no one can beat the Chiefs fans. However, if you're going to look past the sound waves, the Kansas City fans don't have much to offer. Don't pull out your noise-canceling headphones just yet, though, because their level of engagement is enough to give any player the power to pull through a tough spot. The crowd will be by their side, and you can be sure the players will hear them!
5. Dallas Cowboys
The Cowboys fans will always fill the stadiums! You know that when Dallas plays, wherever they play, the fans will be marching to the field to watch. The Cowboys fans may not be the loudest, may not have been through as much mediocrity, and may not be as lively, but they are a loyal bunch! When the players look up into the stands, they will see a crowd with no empty seats. They will see adoration.
You might think that the Dallas fans are simply too polite and respectful to go all-out crazy, but switch to social media, and you will see that they are just as crazy as the rest of the football fans!