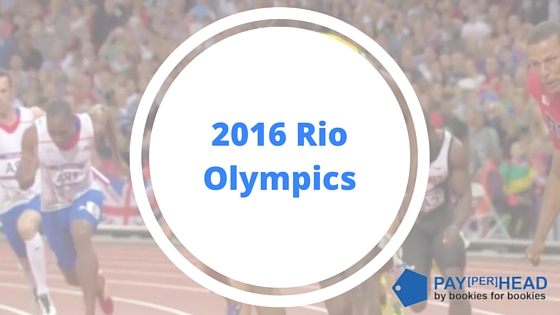 The 2016 Rio Olympics start on August 5th, 2016. The Olympics run from August 5th all the way to August 21st. Although online bookies will be able to offer wagering on almost every single one of the Olympic events through a per head platform, the three events below are those that bookies should suggest to their players.
Are you looking to grow you online bookie business before NFL preseason and the NFL season? PayPerHead.com is offering a NFL $3 per head pricing deal that lasts all summer long! Online bookies should definitely grab this deal before the summer is over.
Track and Field
There are a bevy of track and field events that bookies could suggest to their players. It starts with the 100 meters. So far, the most intriguing wager appears to be the 400 meters where 3 runners are at +350 or less odds. Those 3 runners are Wade Van Niekerk at +125, Kirani James at +150, and Lashawn Merritt at +350. There are a number of 2016 Rio Olympic track and field events that online bookies could point out to their players.
Bookie Tip:  It's imperative that bookies create max betting limits for their players when it comes to track and field events. This is especially true in the events that any of these runners takes part in.
Swimming
The pool is going to be hot in Rio this summer. So far, there isn't a single less than even money favorite in any of the events. This includes Laszlo Cseh at +210 versus Michael Phelps at +220 in the 200 meters butterfly.
Bookie Tip:  Swimming is going to be an easy sell for bookies at the Rio Olympics. What bookies should do is let their players know that the odds are more than fair on almost every single Olympic swimming event this summer.
Boxing
So far the odds for boxing haven't posted. That's okay. It doesn't mean that online bookies can't put the desire to bet on boxing into their players' ears. Every 4 years, Olympic Boxing is one of the most wagered on sports during the entire games. This year, Ireland has a close to odds on favorite in Paddy Barnes to win a gold medal. Barnes is at 5/4.
Bookie Tip:  Tell your players that they'll have access to great odds on some awesome boxers to win individual matches this summer. Put your players on a list to let them know when the odds come out.
The Olympics and the NFL preseason both kick-off in August, but once the Olympics are over your players are going to want to focus on the NFL. As an online bookie looking to build their player list for less, PayPerHead.com is offering a $3 per head pricing just for the NFL! That's a 77% savings discount! Grab the deal today before it's gone by the end of the summer.