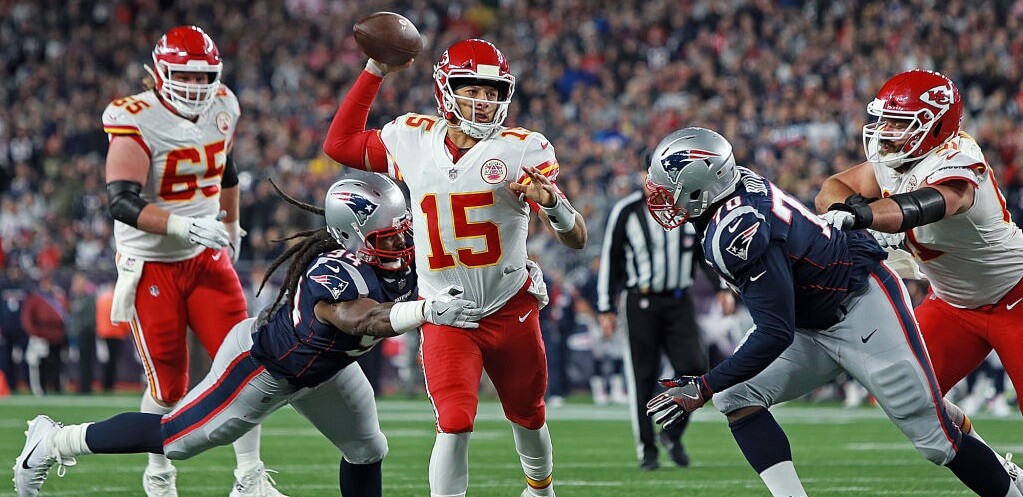 September 9 is just around the corner and with it the beginning of the new National Football League season. This means four to five months of opportunities to bet and keep stacking the paper.
If you are as excited as we are, make sure to keep reading — we will cover the best odds for the most popular outright bets for the NFL, and also let you know what the best bookmakers for placing outright NFL bets are.
Top NFL Outright Markets
Undoubtedly, the most popular betting method for many sportsbook enthusiasts out there is the outright type of bets. They're easy to learn and straight to the point. What's more, the NFL outright market is huge, and there are dozens of different bets you can place; some of the most popular ones are the NFL Super Bowl winner and conference winners.
NFL Super Bowl Winner
Betting on a Super Bowl winner is the fans' favorite, especially because of the juicy potential the bet comes with. If you're the type of guy who watches football pre-season drafts and transfers closely, this type of bet could be ideal for you.
Currently, a lot of eyes are on the New England Patriots. Many bookmakers like Bet365, Unibet, and William Hill give them 7/1 odds and think they are the ones that will take the trophy home. They are closely followed by the Kansas City Chiefs who, according to Red Zone, are 9/1 favorite to take it all, and also New Orleans Saints that have 10/1 chances to win if you are to bet in William Hill, 888sport, Red Zone, or Unibet.
AFC Conference Winner
Since a lot of sportsbooks think that the New England Patriots are going to win the Super Bowl, it doesn't come as a surprise that they are also the favorite to win their conference. The best odds you can get for them winning AFC are in Betfair and Betfred with 10/3.
They are closely followed by the Kansas City Chiefs with 9/2 in Red Zone, and LA Chargers with 15/2 in Sky Bet, Unibet, Betfair, and a few others.
NFC Conference Winner
When it comes to the NFC conference winners, things look a lot spicier. Currently, sportsbooks like William Hill, Betvictor, Bet Fred, Red Zone and a few more are favoring the New Orleans Saints, giving them 9/2 to win the conference.
Other favorites that can challenge the Saints with great odds include LA Rams with 5/1 in Red Zone, and Philadelphia Eagles with 8/1 in Bet365, William Hill, Betfair, Sportingbet, and Royal Panda.
Other Outrights
If you like deviating from the norm and making things even more exciting, you should know that sportsbooks offer a ton of outrights bets. Since playoffs can get hectic sometimes, a lot of the fans like betting on the number of regular-season wins.
Some of the top picks for the 2019 season are the Chicago Bears with 4/5 in Ladbrokes and 5/4 in Unibet and Red Zone for under 9.5 and over 9.5 respectively, as well as the Detroit Lions with 19/20 in Ladbrokes and Coral, and 6/4 in Red Zone for over 6.5 and under 6.5 respectively.
If you are to play in 888sport, you can even bet on the team that's going to win the least matches. Currently, the Miami Dolphins are "leading" the race with 3/1 odds, followed by the Arizona Cardinals with 4/1.
Top NFL Predictions
While bookies may dish out odds left, right, and center, sometimes the best thing you can do is rely on your gut. When it comes to our pick for the Super Bowl winner, we recommend placing a small wager on a dark horse — the Minnesota Vikings. Their odds to win are currently 28/1 in many sportsbooks.
If you aren't keen on the Vikings and you wish to bet on the finalists, you can go with the Kansas City Chiefs and LA Rams with 20/1 in Ladbrokes and Coral or the New England Patriots and the Green Bay Packers that are 33/1 in the same bookies.
Finally, Ladbrokes and Coral also offer some special bets, such as betting on the Super Bowl MVP. Current favorites are Tom Brady with 15/2, Patrick Mahomes with 8/1, and Drew Brees with 17/2, while the Vikings' Kirk Cousins is at 22/1.