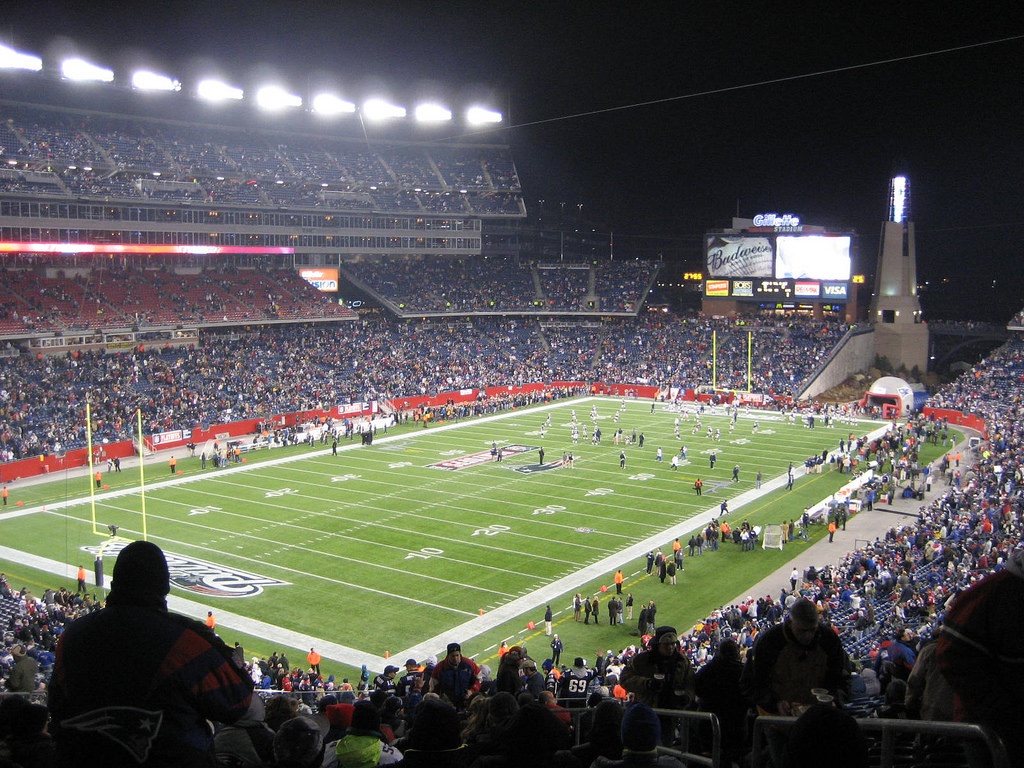 When it comes to football, the Patriots are a royal dynasty, and royalty requires a palace. The Pats won their first Super Bowl in 2002, and it was all too perfect that this win coincided with the end of the dilapidated old Foxboro Stadium, and a move into the elite facilities of Gillette Stadium.
If you have been one of the 65,878 fans to file into Gillette Stadium on gameday, you may have been treated to seats in the beautiful luxury suites, or perhaps you sat all the way up at the 300s level. Either way you probably had a great time cheering on the six-time Super Bowl Champions.
If you're a Pats fan, you have seen Gillette Stadium many times on TV, and hopefully at least a few times in person. You're probably familiar with the lighthouse that welcomes fans in through the gates, and you know that it can get cold as hell there… but that's only to the home team's advantage.
In homage to the Pat's six Super Bowl rings, here are six facts about Gillette Stadium that you may now know…
It was Originally Named CMGi Stadium.
During the 90s the dotcom era was going strong, and CMGi was a Boston-Based computer information company that was helping lay the groundwork for what the Internet would one day become. Boasting a powerful search engine, CMGi may have one day been the "Google of Boston"… but then the dotcom bubble burst and CMGi went bust. Gillette swooped in and purchased the stadium naming rights at an undisclosed amount, but to give you a sense of the annual cost, it was reported that Procter & Gamble renewed the naming rights at $8 million/year.
Patriots Owner Robert Kraft Wanted to Place a Casino Resort Across the Street.
In 2011 Kraft and real estate businessman Steve Wynn were aiming to build a casino that Kraft claimed would fit into the "bucolic" context of Foxboro, Massachusetts. It was voted down by Foxboro residents in 2012, and the project became yet another footnote in the long history of attempts to erect a major casino resort in Massachusetts.
Massachusetts has a long history of failed casino resort projects. In Springfield, MA alone, there has been a long history of scrapped casino projects leading up to MGM Springfield finally opening in August 2018. Casino projects have always been a challenge to launch in the Bay State, often bringing up questions of zoning, legality, and concerns about increased crime rates. In addition, hundreds of online casinos have come onto the market, creating another potential competitor for brick-and-mortar locations.
There is One Staff Member at Gillette to Every 13.7 Fans.
Every Pats fan knows the "Do Your Job" slogan from Coach Belichick, but it isn't just the players that come to work on game day. There are up to 5,000 staff at any given Patriots game. Concessions, security, parking attendants, cleaning crews… a lot goes into making sure Gillette is running smoothly for game day.
Every Game at Gillette Has Been Sold Out.
Okay, so given the fact that this is the New England-freakin-Patriots we're talking about, it's not a real shock that all 65,878 seats have gone filled for each game. But it is sort of interesting that the games were already being sold out well before the Brady era began. The Patriots haven't had a game that wasn't fully sold out since 1994.
Gillette Has the Largest Biggest Outdoor Stadium Screen in the NFL
Measuring at 41.5 feet by 164 feet, Gillette has two massive video boards that ensure you can see every detail of the game, even if you are all the way up the 300s level. These HD Daktronics LED video boards are the equivalent of 1,700 standard, 37" TVs.
There was a Plan to Build the Stadium in Connecticut
It was clear the Patriots would be needing a new home stadium, and in the late 90s a group of businessmen from Connecticut hoped to entice the Pats to relocate to Hartford, Connecticut. The new stadium would be publicly funded at upwards of $1 billion. Patriots owner Robert Kraft even signed the deal, but three months later the plan died due to issues with the intended construction site. Furthermore, Kraft managed to secure $72 million dollars from Massachusetts, allowing them to build Gillette Stadium right next to the old Foxboro stadium location.