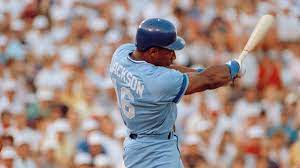 Athletes, especially NFL players, are a talented bunch of people! You'll often find that an NFL player has also dabbled in other spots in a professional manner. Before you make your NFL player props for the next game, you may find it interesting to learn about which of your favorite football stars have also played other sports in a professional manner! 
So, what NFL players have also played other sports professionally? Here's everything that you need to know!
Bo Jackson
Anyone who's interested in the MLB may recognize the name Bo Jackson from two different places. First, he is known for playing in the NFL. He's also played in the MLB, however. Not only that but he possessed even more athletic talents, including almost qualifying for the U.S. Olympic track and field team. Jackson was in the MLB from 1986 and then later joined the NFL in 1991. He wasn't in the NFL for a long time due to an unfortunate injury, but he certainly had some moments to remember, playing for a number of teams including the Kansas City Royals and the Chicago White Sox.
Deion Sanders
Sanders is yet another NFL player that made a statement in MLB too. He played for a couple of different teams such as the New York Yankees and the Cincinnati Reds, and he was a center fielder. He later played in the NFL for the San Francisco 49ers and the Dallas Cowboys. He was even a huge player in two major Super Bowl Games. His name made its way onto the Football hall of fame, so there's a good chance that you've heard of him! 
DeAndre Hopkins
DeAndre Hopkins started his career in basketball, and was an incredibly talented player. He was a three time all state player at that. When he finished school, he changed his aspirations to Football, entering the NFL in 2013. He then became a very talented pass catcher that has had a lot of accolades and touchdowns to his name. Did he make the right move? We certainly think so.
John Elway
John Elway was a quarterback during his time in the NFL. He also played in Minor League Baseball for a short time, playing for the New York Yankees. In 1983, he was drafted to play for The Colts though he wasn't especially keen on the idea of playing there. Later, he ended up being shipped to Denver and started a career in the NFL. He was incredibly talented in both baseball and in football – it's only a shame that we didn't get to see more of him swinging that bat. 
Michael Bates
Wide receiver/kick returner Michael Bates didn't play football for his entire career. He started off in college football, but then changed gears in 1991 where he focused on running track. In fact, he ended up in the Olympic trials in 1992 where he won a bronze medal for the 200 meter dash. He debuted in the NFL in 1993, at which point he hadn't actually played football for a solid 2 years. He picked up his game though, and is now known as one of the best returners in the NFL.
Michael Carter
In 1984, Michael Carter had the year of a lifetime. He wasn't only drafted for the NFL, he also ended up winning a silver medal in the Olympics and helped lead the 49ers to a huge Super Bowl victory. He won an Olympic medal and Super Bowl all in one year, a feat that's only ever been done by Carter. It seems like athletic talent runs in the family too, since his daughter won a gold medal in shot put in the Olympics of 2016.
Conclusion
We've seen a lot of talented individuals in the NFL through the years, so it's no surprise that many people have played the NFL and other sports too. It's amazing to see what these NFL players have achieved! This isn't even everyone either. Pretty cool, right?