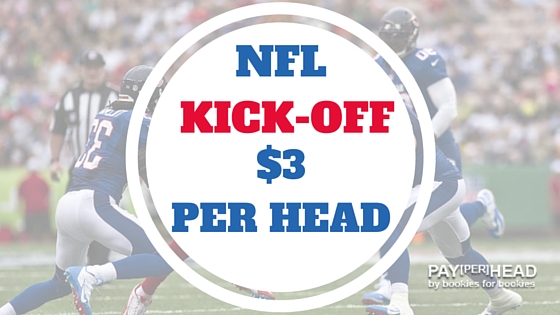 PayPerHead.com is offering an incredible $3 per head deal to bookies looking to switch their players. That's an incredible 77% savings per head from the usual PPH rate. Training camps start in July meaning that the NFL Season is almost here. Doesn't it make sense to get started with an awesome $3 per head deal through PayPerHead?
It makes sense to sign up with a premier per head website like PayPerHead.com in order to get ready for the upcoming NFL Season. The fact that you can get $3 per head is amazing. Before getting into the catch of the NFL Kick Off Campaign, check out some features of PayPerHead that separates it from the competition:
24-hour customer service for you.
An online bookie platform that allows you to customize max and min bets on an individual basis.
A per head platform created by former bookies who know what you need in order to succeed.
Mobile betting with daily win/loss figures set to specifications.
1000+ live wagering events.
The ability for your players to wager throughout the entire duration of an event.
Created by bookies who understand how important the NFL Season is.
Okay, here's the catch: you have to deposit $100 within 7-days for the $3 per head deal. But, that's it. That's the only catch for you to take this deal to the end zone.
The NFL Season is where most online bookies make their money. Your players are going to turn on the jets when it comes to the NFL. Running an online bookie business is more than just taking bets over the phone. It requires a true understanding of today's sports book players. Let PayPerHead.com partner with you.
Many bookies have used PayPerHead's bookie platform, unmatched customer service, and unparalleled bookie information to create amazing businesses and now's the perfect time to get PayPerHead.com's NFL $3 Per Head Kick-Off offer today. The competition in the online bookie business is intense. PayPerHead wants to be the partner that helps you succeed. You should check it out for yourself.  Create an account on PayPerHead.com and sign up for the $3 per head deal. If you want to speak to a PayPerHead rep, call 888-978-088.