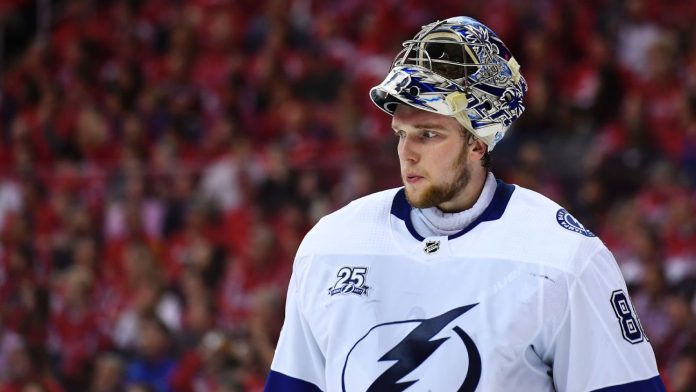 Tampa Bay (0-0) at NY Rangers (0-0)
When: Wednesday, June 1st 2022
Where: Madison Square Garden,
New York, NY
Time: 8:00 ET | TV: ESPN
Opening Odds: Tampa Bay -115/5.5
If the Eastern Conference finals series opener between the Tampa Bay Lightning and New York Rangers is half-exciting as last night's Edmonton/Colorado game, then we're in for a great game. The Lightning are seeking their third consecutive trip to the Stanley Cup Finals and continue that quest with Game 1 at Madison Square Garden against the upstart Rangers. Tampa has been off for nine days entering Wednesday's Game 1 and sometimes that could be too much rest. The Rangers come in with some momentum after eliminating the Carolina Hurricanes in Game 7 on Monday night.
Tampa Bay is attempting to become the first team to win three-consecutive Stanley Cup titles since the New York Islanders won four consecutive from 1980-83. They faced elimination twice in the first round before dispatching the favored Toronto Maple Leafs in seven games and then swept the President's Trophy-winning Florida Panthers easily in four games. The Lightning outscored Florida 13-3 while getting a dominant performance from goalie Andrei Vasilevskiy, who 42-17 in his past 59 playoff games with seven shutouts.
New York is in the conference finals for the first time since 2015 and the only remaining player from that group is Chris Kreider, who scored two of his eight postseason goals in Monday's 6-2 rout at Carolina. New York came back from a 3-1 deficit in round one to the Pittsburgh Penguins and never led in the Carolina series until Game 7. Goalie Igor Shesterkin helped the Rangers reach this point by posting a .939 save percentage and 2.09 goals-against average this postseason.
The Lightning will either benefit from the rest or could be rusty as they finished off the second-round sweep of Florida on May 23. Vasilevskiy surrendered just three goals to the NHL's highest-scoring regular-season team. Tampa also was without one of its best forwards in Brayden Point, who led the previous two postseasons in goals scored. Point was injured in the first period of Game 7 of the first round against the Maple Leafs and probably won't be ready for Game 1. The Lightning lost all three regular-season meetings vs. the Rangers, scoring just four goals.

The Rangers gave Carolina their first home loss this postseason in the Game 7 upset on Monday. New York became the fourth team in Stanley Cup playoff history to win multiple series in one postseason after facing a multi-game deficit in each. They started the series down 0-2 and looked dead in the water. Chris Kreider netted two goals Monday, while Mika Zibanejad three assists. Zibanejad has 11 points in games when facing elimination this postseason – tied for the most in NHL history. Shesterkin was 3-0-0 with a 1.30 GAA and .958 SV this year vs. Tampa Bay.
$750 NHL Betting Bonus! (US CUSTOMERS ONLY)
I don't like taking a team with this many days rest against a team that has recent momentum. The Garden will be rocking and the Rangers power play will come through once again. I'm also taking the Rangers at +155 for the series.
Pick: Rangers +111