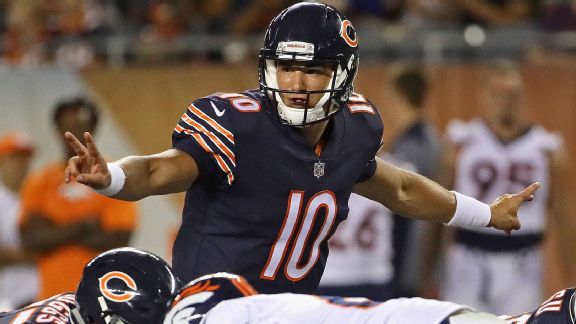 It has been a relatively busy week with line movements leading up to NFL Week 6 action with 11 of 15 games showing some movement so far. Outside of the 4 games with no movement, we have 3 games that have moved half a point, 4 games with a 1-point movement, and 1 game with a 1.5, 2, and two games with a 2.5-point move. Let's look at the games with the biggest NFL Week 6 line movements.
Ravens @ Titans | Sunday, Oct. 14 | Open: PK | Current: TEN +2.5
The opening line for this AFC matchup was all over the board, at PK on Sunday night at a couple offshore sportsbooks while at the same time, various offshore sportsbooks opened it at BAL -2.5.
At betonline, it opened at 2.5 Sunday around 7:30, but quickly went to 1.5, 1, and then back to 1.5. It hit 2 early Monday morning, then went to 2.5, where it currently stands, at around 10am on Friday.
Win Big this NFL Season with Online Sportsbook Bonus Offers
The Titans have been hard to figure out this season after two big wins in consecutive weeks against the Jaguars and Eagles, only to follow that up with a 13-12 loss in Buffalo. The same can be said for the Ravens, defeating the Broncos and Steelers in Week's 3 and 4, respectively, then losing to the Browns 12-9 in OT last week. This inconsistency could be the reason for undulating betting line.
Bears @ Dolphins | Sunday, Oct. 14 | Open: MIA +1 | Current: MIA +3.5
Much like the Ravens vs. Titans line, this one opened offshore at 7:30 PM with the Bears a 1-point favorite, only to see a rapid move to -3 around 8. It remained steady at 3 until it jumped to 3.5 on Thursday morning, reaching 4 briefly before it settled back at 3.5. It can still be found at 4 at a couple shops if you are looking for a little better position.
After a 1-point loss to the Packers in Week 1, the Bears have rattled off 3 straight wins, including a 48-10 dismantling of the Tampa Bay Buccaneers in Week 4. QB Mitch Trubisky had a career day, throwing for 354 yards and 6 TDs. If the young quarterback can keep up this progression to go along with their defense that has given up the second fewest yards per game, lead by Khalil Mack, there is no telling where this team can go.
Online Sportsbooks are the Easiest Way to Start Betting on the NFL
On the other side of the spectrum are the Miami Dolphins, who have taken a major tumble since opening the season with three straight wins. After a Week 4 loss to their #1 nemesis New England Patriots, the Dolphins squandered a 17-0 lead over the Cincinnati Bengals, allowing 27 unanswered points en route to a 27-17 loss.
The Bears are really looking like a potential playoff team, and looking at the line movements, oddsmakers and smarter sports bettors are feeling the same way. Most power rankings on top sites have the Bears between 7-10 and the Dolphins between 17-20, providing great value in the Bears, coming off a bye on the road.
Jaguars @ Cowboys | Sunday, Oct. 14 | Open: DAL +1 | Current: DAL +3
Most sportsbooks, both Vegas and offshore based, opened at 3 with the exception of 5Dimes, which opened at Jax -1. It went to PK for a brief moment Monday morning before it made the climb to the current line of 3.
The Jaguars, considered by many the favorite in the AFC, lost 30-14 to the undefeated Chiefs last week. QB Blake Bortles threw for 430 yards in the loss, throwing 4 interceptions in the process. Their 3-2 record equals that of the Titans, who are atop the AFC South, so expect a full effort from them this weekend.
The Cowboys have alternated losses and wins since their Week 1 loss to Carolina for a 2-3 record. Dallas' defense has given up the 5th fewest points per game (19.2), but their offense has been stale, with only Arizona and Buffalo scoring less than their 16.6 points per game.
Sportsbook Bonuses are Profitable is Used Correctly and Understanding them and How they Work
Jerry Jones was publicly critical of head coach Jason Garrett's play calling last week, and if that continues, will be finally see Garrett get kicked to the curb? I personally can't believe Jerry has been as patient with him as he has been.
Keep your eye on the line movements as we get closer to kickoff on Sunday. There is sure to be some value to be had, and getting your side at a better line will help you win more bets in the long run. Using multiple sportsbooks will allow you the flexibility to get the best line possible, getting you on your way to beating the bookie. Good luck this weekend.