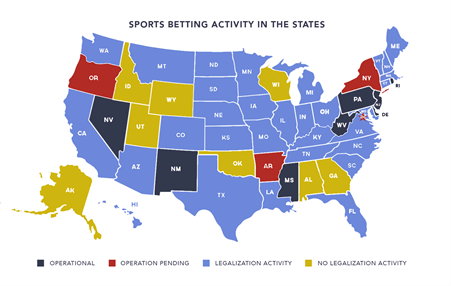 The fastest growing and perhaps one of the biggest sports in the world right now is firmly planted in  the growing world of esports, with the recent world championships of League of Legends at the end of 2020 pulling in an estimated 45 million concurrent viewers on the final day the numbers are certainly looking tough to beat. This past year has also seen a big change in audience as a more causal fanbase have started to make the change with the growing number of titles available – with this, there has been an uptick in the betting market too for esports as there's a growing number of popular markets, but could esports as a whole help bridge the gap?
Much of the interest could come around betting regulation as a whole, particularly across the US as a number of states still haven't changed regulation around sports betting as a whole, but with esports starting to emerge in the online space it brings up the question of whether or not it should fall under the same regulation, or something new entirely. There are many states that have already made adjustments for this space as Pennsylvania gambling allows many betting markets for different esports title, but many others will certainly follow the same approach as traditional sporting and may be slower to make the necessary change.
There is a small caveat that may impede the change, there has been a little drama in the esports scene over recent years as reports of match fixing have become widespread in the lower tiers of different games and has become somewhat of a large problem within esports, unless more control can be had over this area in particular there may be many regulators reluctant to adjust the approach solely for esports whilst uncertainty remains in this part of the market. There is a lot of work being done to change this, however, and as such may become less of a factor once you the individual organisations find better ways to manage the scene.
Many different states have been introducing different bills throughout the past few months targeted at this area that are expected to find review towards the end of this year, there may be some delay like which had been seen last year due to the pandemic, with any luck things will be pushed forward as many experts are suggesting that a growing betting market will help a struggling economy, but that's certainly something yet to be seen. Only time will tell, but given the speed at which esports is growing, there will certainly need to be an answer sooner rather than later.