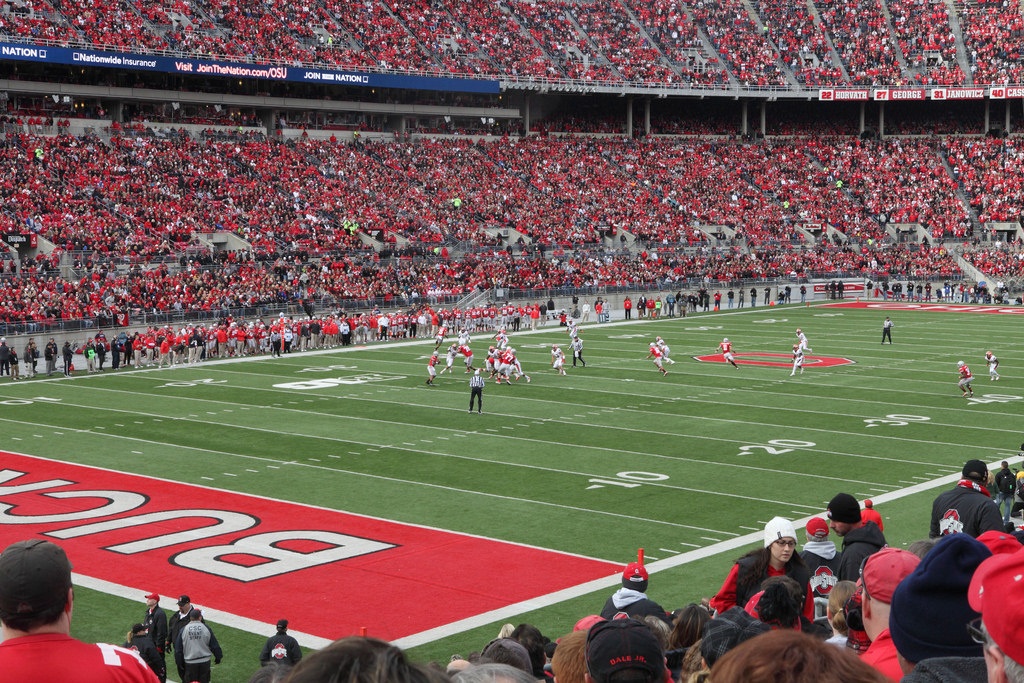 This week is going to separate the big dogs form the pretenders. Week 9 in NCAA college football is going to be epic and will set the wheels in motion for the College Football Playoff. The CFP top 25 is set to come out within a week and what happens this weekend will tell the greater story for the national championship run. Have you looked at the recent futures? They are heating up, check the latest numbers at your favorite online bookie.
Teams can no longer just maintain or simply stay afloat. Example: Michigan, they are somehow staying afloat, Michigan State is another example, how they get the respect they do is beyond most college football fans. It makes no sense to anyone outside the state of Michigan! This week is put up or shut up time and a few teams must draw a line in the sand. Such as Ohio State. If Ohio State has any chance at another championship run, they must beat Penn State. This game is not about competing, this game is about making a statement. Penn State is in a position to survive a close loss. Ohio State, not a chance! Does your online sportsbook offer live wagering? If not, find one that does!
Advantages of betting football at America's Bookie – PPH Service $10 Per head or less
[ad id='37155′]
#2 Penn State vs. #6 Ohio State
Penn State comes into this one riding high off the beat down win over Michigan. As we said earlier, this one is a bigger deal for Ohio State than Penn State. Fortunately for Ohio State, this one is in their back yard. The knock on the Buckeyes is their loss to an obviously weaker, Oklahoma Sooners. But, let's talk out both sides of our mouth for a minute! The odds will change quickly, find the best online odds now with a great sportsbook.
What has Ohio State done since the Oklahoma loss? They have won out, with 5 solid wins and made a statement in each game. Army, 38-7, UNLV 54-21, @ Rutgers 56-0, Maryland 62-14 and followed it up @ Nebraska with a 56-14 win. Urban Meyer is furious and when he gets furious, people lose!  This game is going to be a showdown from top to bottom and you can look for a high scoring, big play type of game. Possibly a teaser is the way to go in this contest.
Saquon Barkley has established himself as a front runner in this year's Heisman race and he is a big gamer and a big time moment's guy. Rest assured, he will show up for this one. Will Ohio State be ready? You can count on it. Barkley will get his and so will Ohio State. Dobbins is a very solid back with 775 yards on the season and 5 touchdowns. Barrett and McSorley match up perfectly and whomever establishes their air attack early will win this game. Proposition odds are a big deal this week. Your favorite bookie should be offering the best in wagering options.
Prediction: Penn State/Ohio State Over 55
Georgia Tech vs. #7 Clemson
Clemson is sick to death of losing! Yes, one loss is a notable losing streak for the program, especially under head coach Dabo Swinney. The program doesn't know losing and they are not accustomed to the ugly taste. Get back on the train this week with Clemson. They have had two long weeks to think about the mess in Syracuse. They are furious and they will play like it. Swinney knows that he must get a big, decisive win over Georgia Tech. A big win will put the Tigers right back in the hunt and look for this week to be a smack down. Kelly Bryant is back and the offense will be back. Team totals are a great option in this game, make sure your favorite online sportsbook offers this option.
Prediction: Clemson -14.5
[ad id='36510′]
This college football season is stacking up to be a great one. If you like to gamble on NCAA college football then this has been your year. There are many great games this week such as Oklahoma St. vs. West Virginia. If you like totals then you must see this game. It will be a scoring bonanza. You can count on close games and maybe even a blowout or two. Are there upsets in the making? Who knows for sure, but the one thing we do know, the Ncaa football lines and picks are up and the action is going to be nonstop, starting Thursday night until Saturday night. Dial up your favorite sports book and come loaded this week. Win big money. It's your week.