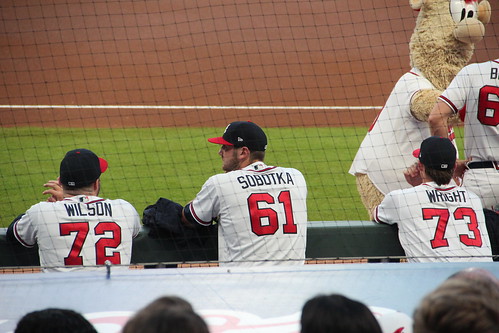 On the back of an unlikely 90-game win season last year that saw the Atlanta Braves win the NL East title, the team's fans were confident heading into this season that they could go even better this year. As we enter the final run of the regular season, the Braves are in a very decent position to fulfill the fan's hopes. Having fallen at the first hurdle in the postseason last season, the focus for the Braves will be to not only make the playoffs again this year but also make a deep run.
Preparing to make their final moves in the trade market, Atlanta knew doing the right business at this stage of the year will be crucial to their chances of winning a fourth World Series. The key to this is preparation and analyzing the market for the best deals available; this is also common in other sports such as football and basketball, as well as other industries that range from stockbroking to the online casino industry, where there are sites that cater to a variety of needs such as a full list of all 11 sites that offer online scratch cards can be found here
So, with the trade deadline now over, let's take a look at how the Braves are shaping up as we enter a crucial part of the campaign. Alex Anthopoulos has spent a large chunk of this season preparing for this final push, and he will be confident he has got it right coming out of this trade deadline.

"Atlanta Braves vs. St. Louis Cardinals" (Public Domain) by Thomson20192
That's a relief
A move that split the fanbase initially but is now looking better and better is the trade that saw the Braves sign relief pitcher Chris Martin from the Texas Rangers for starter Kolby Allard. Trading a 21-year-old starter for a 33-year-old relief pitcher might not look like great business on the surface, but Allard has been a passenger for much of the season and Martin provides much more reliability and experience. When you look at the journey the 33-year old has been on to get to this point in his career, that determination could well be crucial this season for the Braves.
Closing the deal
It's no secret that the Braves needed pitchers. The issue is so do a whole host of other franchises in the league. An experienced campaigner who is postseason tried and tested are rarities, so Atlanta know getting the right man wasn't going be easy. Marcus Stroman, Zack Wheeler and Madison Bumgarner had all been linked with the Braves in recent weeks, but in the end, they may have gone even better, acquiring Tigers closer Shane Greene in exchange for Joey Wentz and Travis Demeritte. Coming off the back of his first All-Star appearance, Greene is just the sort of pitcher the Braves need and is a great bit of business.

"Madison Bumgarner" (CC BY-ND 2.0) by John Pastor
How did they do?
Very well. Very, very well. The focus for the Braves going into this trade was in their bullpen, and it's hard to argue they haven't strengthened that department. If they're going to do more than merely defend their NL East title this season, experience is going to be key, and that's something Atlanta have added in abundance. The deadline signings of Greene, Martin and Mark Melancon see three veteran relievers added to a bullpen that needed to be able to cope with those high pressure, late-inning scenarios they will inevitably find themselves in at some point.