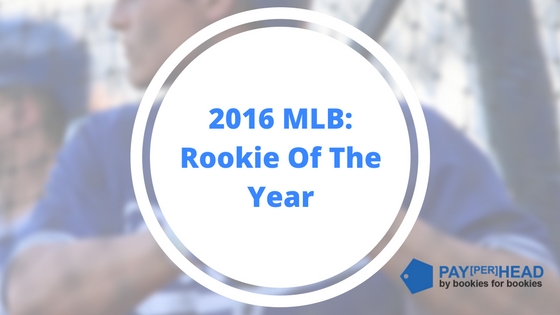 Bookies who are looking to suggest another MLB prop bet should suggest the Rookie of the Year award. Baseball bookies who are thinking about encouraging some Rookie of the Year wagers while discouraging others, should look at this list of athletes who have a chance at the 2016 MLB Rookie of the Year award.
Grow your business before the NFL kicks off. Bookies can test PayPerHead.com's premium industry-leading platform for as little as $3 per head for a limited time only. Interested in this offer? Find more about it right here.
Corey Seager, Los Angeles Dodgers -500
The 22-year-old has been a star for the Los Angeles Dodgers. Playing shortstop, Seager has amassed a .300 batting average with 52 RBIs and 19 home runs. What's truly impressive has been his playing in the field. Seager has a .970 fielding percentage. He's committed only 12 errors while turning 48 double plays in 922.1 innings this season. Due to his odds, online bookies could expect their players to stay away from betting on Seager. Then again, he's such a sure thing that bookies might want to use pay per head tools to discourage any bets on Seager.
Junior Guerra, Milwaukee Brewers +800
In any other season, Guerra might be the Rookie of the Year pick. He has terrific performance for a rookie. Guerra has pitched a total of 107.1 innings in his last 30 games. He's allowed 80 hits and he's given up 35 earned runs. His ERA is a terrific 2.93 while his WHIP is fantastic at 1.09. Those looking to cash in on an underdog might jump all over Guerra at +800. Bookies need to realize that if Seager gets hurt, Guerra will be the guy that likely wins the Rookie of the Year Award.
Kenta Maeda, Los Angeles Dodgers +1000
Maeda, like Seager, plays for the Dodgers. That itself should cause most rookie future MLB prop bettors to stay away. At age 28, Maeda is younger than Guerra, 31, which works in Maeda's favor. But, Maeda's ERA is 3.22 compared to Guerra's 2.93. Maeda's odds of winning the award should be much higher than +1000. Online bookies could think about raising the per head betting odds on Maeda however there isn't much advantage in doing so.
Steven Matz, New York Mets +1200
Matz has the tools to be another great pitcher for the New York Mets. He's only 25, which means he has room to improve. As far as bet prop betting is concerned, bookies won't have to worry about Matz stealing the award. His ERA is over 3.60 and his WHIP is at 1.27. Seager and Guerra are much better choices.
Knowing these rookie MLB athletes odds and chances of the winning the 2016 MLB Rookie of the Year award, it's time to suggest this prop bet to your players and make a little extra profit this 2016 MLB season.
PayPerHead.com is offering a deal just in time before the NFL kickoff. Bookies can test PayPerHead.com's premium online bookie platform with the best features for as little as $3 per head. This offer is only available for limited time only, so act fast. Get this offer right here.