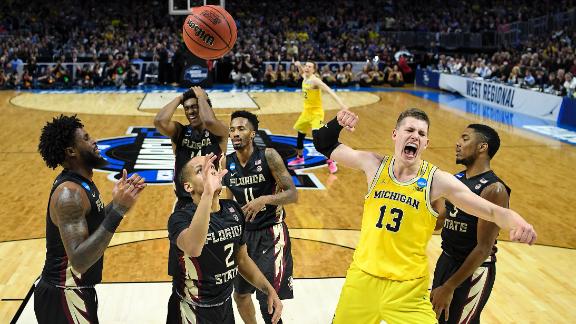 The Michigan Wolverines come into this battle as a -5 favorite. This is the dumbest number in the history of Final Four College Basketball. Yes, we said it; just simply a dumb number! Get in and lay the -5 now because this number will not hang around, it will be gone by Saturday.
Loyola is a good basketball team and what they have done this year has been nothing short of amazing. These kids have played the big leagues to a tee and they have shredded some good competition but have they really? NO. They have shredded nobody, they have barley gotten by. A win is a win and that's what matters at the end of the day but they are going to need much more against a very good Michigan Wolverines team.
March Madness- Ncaa basketball preview, predictions, scores and odds
Loyola's 98-year-old super-fan Sister Jean ruling the national spotlight, has been fun, it has been a lot of fun. It has been fun watching this team get after it and get very lucky along the way.
Loyola +5
Michigan -5
Total 129.5
6.09 EST TBS
Mo Wagner! Enough said! Loyola had better come loaded for bear because Mo is the bear and he will not be stopped. Mo is not the only one, Michigan has 4 others that will come swinging every step of the way and it's going to get relentless for Loyola.
Loyola has no chance, let's just cut to the chase here. Like we said earlier, it has been fun and it has been a great run. This team has put their program on the map and Sister Jean has had a real impact for the positive in these young men's lives. It's over folks, very over. The one point wins will not cut it against a championship caliber team in Michigan.
Should you buy points to improve your chances of winning? How to buy points
Las Vegas is a funny place. They love public perception and they love throwing out odds that feel good. This one feels good because Loyola feels good. Games are not won or lost on a feeling, they are won on talent. Look at the Kansas vs. Duke game. Kansas has some scrappers that play like junk yard dogs, they play like bullies and they stick it to team when they are on the mat. They know when to end it and they ended it in overtime against a very good Duke team. A team that nobody said Kansas could beat.
Loyola is not Kansas, not even close. They are a great group of kids that have proven they can win but who have they played and what was the margin of their wins. Think smart about this one and don't let Vegas fool you. This is what they are hoping for.
We will see a Michigan team that will beat the pants of Loyola. -5 is a gift so jump and jump now. This is your one opportunity to make some money. Contact a safe sportsbook and don't screw around. Loyola is playing a great team now and they have finally met their match.
Prediction: Michigan -5