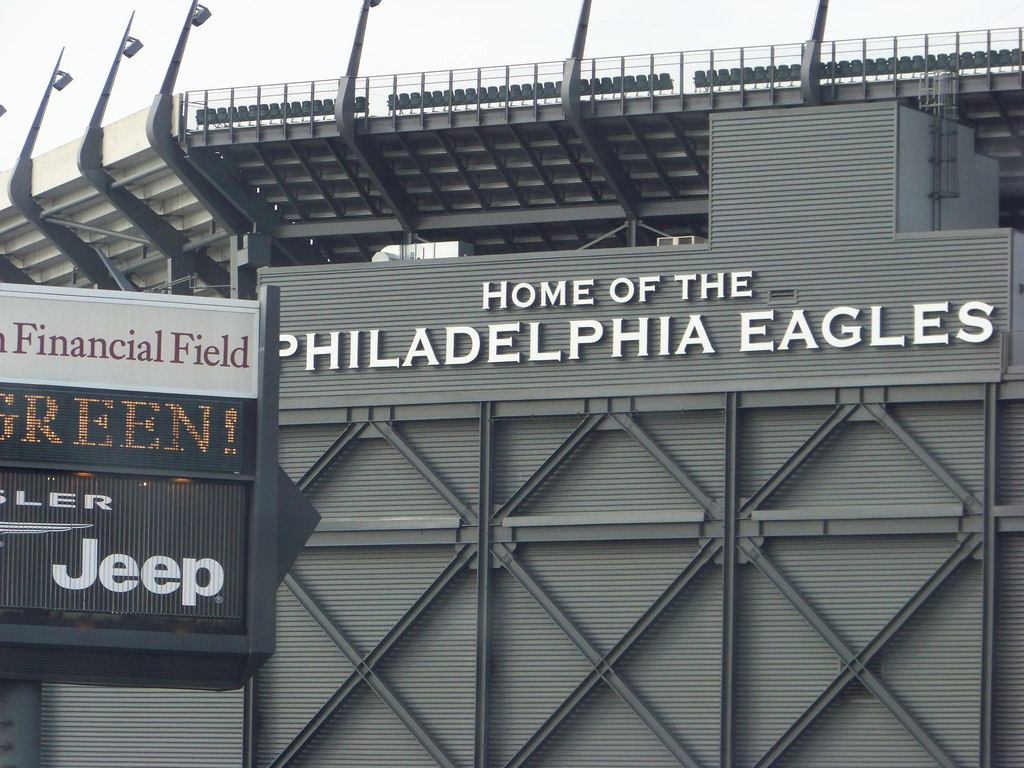 If there was ever any doubt about Mr. Brady's ability to bring the swag like a 25-year-old stud quarterback, at age 44 – all that doubt has been erased. The dude is still nails, and he can still throw the rock for a mile, with accuracy. What can't Tom Brady do? The man was born to play football at this level. You can love him, you can hate him, but the one thing you can't do, is take away his list of accomplishments. They are too long to list here, and who wants to hear it again! Call your offshore bookmaker for this one and ask about a matching deposit bonus.
Eagles (2-3, 2-3-0 ATS), Buccaneers (4-1, 2-3-0 ATS)
Eagles + 7, O/U 52.5
7:20 ET/ FOXNFL.NET
Lincoln Financial Field, Philadelphia, PA
The Eagles opened the season with a big win over the Atlanta Falcons. What we know now is that really wasn't much of a statement, the Falcons are not very good. The next three games for the Eagles were a struggle, and for good cause, it was the toughest part of any teams 3-game stretch this season. They lost three in a row to the 49ers, the Cowboys, and the Chiefs. Then last week, they dug deep and found a victory in Carolina, while holding the Panthers to 18 points.
Americas Bookie – Your Friendly All-Inclusive Sportsbook
We saw an impressive performance from the Eagles last Sunday, but as impressive as it was, we are still not convinced they are ready to step up their game and find a path to victory over an elite team. The NFL scheduling gods were not on Philly's side this year. Imagine taking a glance at Philly's schedule – the first 6-games, before the start of the season. Then consider where the Eagles would land after playing the 49ers, Dallas, KC, Carolina, and now the Buccaneers… Where do they land, 2-3, 2-4, or 3-3?
The Buccaneers are scoring 33.4 points per game and allowing 24.4 points per game. The Eagles are scoring 10 points less per game with 23.0 and allowing 24.8 per game. Obviously, the Bucs have the advantage in the air with 361.6 passing yards per game against the Eagles 273.0 passing yards per game. The Bucs are putting up 82.0 yards per game on the ground against a very solid 116.4 yards per game from the Eagles.
Diversify Your NFL Betting Strategy
Another very solid number for the Eagles is passing yard allowed – 209.2 yards per game. We love that number; however, the Eagles have not played Tom Brady, and Brady always finds a way to shred even the best defensive units. The Bucs are allowing 328.2 passing yards per game, here is the kicker… the Bucs are allowing just 45.8 rushing yards per game, Philly is allowing 142.0 per game. This number smacks us in the face and it's a very difficult one to get around.
The Eagles are going to play good enough football to hang around and keep it close. They are certainly motivated to win and play well after a huge win in Carolina. No matter how much the Eagles may slow Brady down, the Bucs have Fournette who can and will play yard for yard and probably better than any running game Philly puts up. It's Thursday night, and that means fantastic football. Call your sportsbook and get in for what's sure to be a money-making opportunity.
AmericasBookie Prediction: Playing a 6-point teaser – Buccaneers -1, Over 46.5