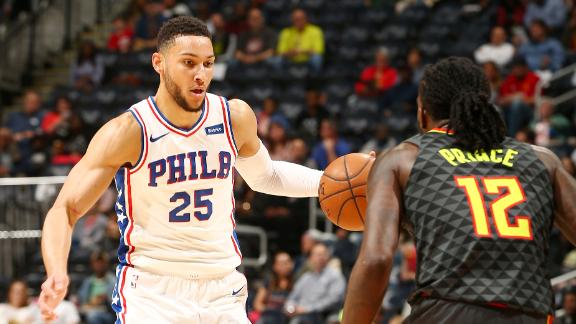 In game two of the Eastern Conference semifinals, the Philadelphia 76ers needed to throw out all the stops to get a win in their series against the Toronto Raptors. Guard Jimmy Butler stepped up and scored 30 points with 5 assist and 11 rebounds.
Now, with the series tied 1-1 after a 94-89 win against Toronto on Monday, Philadelphia (+1½-110 spread, u217-110 total) is headed home with the hopes of gaining an advantage in Game 3 of the Eastern Conference semifinals Thursday night when they play host to Toronto (-1½-110 spread, o217-110 total).
So far this series, the bench has been central for the Sixers success; on Monday James Ennis scored 13 points, the most in his playoff career and Greg Monroe came in for Joel Embiid and sunk 10 points and caught 5 rebounds.
Bet on the Raptors vs. 76ers game at the best online sportsbook, offering some of the best basketball betting odds, Skybook.ag is your best sports betting option. Sign up today to enjoy excellent basketball betting bonuses and promotions as well a very big selection of prop bets for the NBA Playoffs.
Meanwhile, the second-seeded Raptors are looking to regroup. They took game one at home 108-95, but fell victim to a strong Sixers defense in game three. Philadelphia held the Raptors to 36.7 percent shooting in game two, including 27 percent from beyond the 3-point arc.
While the Sixers bench has been their key to victory, the Raptors are being hampered by their inability to get points from the bench. Point guard Fred VanVleet went all of game 2 without a point, Norman Powell has been held to only two points all series, and Serge Ibaka has racked up 9 fouls while only shooting 4 of 14.
Both teams took care of their first-round opponents quickly; Toronto dispensed of Orlando in five games, while Philadelphia got the best of the Brooklyn Nets, also in five. So far, this series is shaping up to be a bit more contested.
Although they will be happy to be back in the confines of their home court, the Sixers are also dealing with an injury scare, as both center Joel Embiid and forward Mike Scott are dealing with possible injuries. Both practiced on Wednesday, but Scott has been out with foot issues, and Embiid has lingering problems with his knee.
The Raptors were 16-8 when coming off a loss, so Philadelphia will be hosting a dangerous team Thursday night. They have depended a lot on Kawhi Leonard. Leonard had 35 points in game two shooting at 54%, while the rest of the team combined was only able to score 54, shooting FGs at a 30% clip. The other scorers will have to step up if the Raptors are going to rebound. Coach Nick Nurse will have to find a way to get Pascal Siakam and Kyle Lowry involved in the scoring to take the pressure off of Leonard.
In game 1 of the series, Siakam had 29 points and shot 80% against Philadelphia. In game two that number dropped to 36%, although he was still able to score 21 points. For the Sixers to take the lead in the series, Jimmy Butler will need to continue the success he had in game two, and Ben Simmons will need to keep the excellent defensive work he did in Toronto on Leonard.