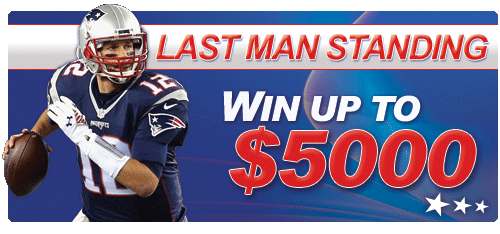 The NFL is back and who isn't ready? After waiting all these long months since the Super Bowl, the fans are ready and gamblers are ready. It's time to get it on, and in a big way. With the preseason in full swing, it's time to think about your sportsbook options. Is there any one sportsbook that is the best? Who offers the best benefits, the quickest payouts and no hassle deposit options? Most all of the books out there stake their claim to being the best. We have done away with the guess work. For the best contests, quickest payouts and super bonus options; Americas Bookie is the best we have found.
Win up to $5000 – America's Bookie NFL Last Man Standing Contest
Every gambler loves free stuff and at Americas Bookie they offer it! Really free, no nonsense, no bull, just free. They are offering what's called "The Last Man Standing" contest. No "hook" here, just a fun contest that can win you $1,500. All that the player needs, is a valid email address along with a mobile number. This contest is not against the spread, it's a straight up play with one entry, once a week. Another great way to win big cash is with their "Last Man Standing" contest, that offers $3,500. For this one, players need to make nominal deposits. All entries for both contests must be submitted before week 1. If you are looking for some free football fun; Americas Bookie offers exactly that.
Picking The right sportsbook for betting NCAA and NFL Football
Everyone that bets football knows exactly what time of year it is and wants to get the money in somewhere. There are so many books out there, but certainly not all of them perform at the same level. Americas Bookie offers bonus structures for every kind of player, with limited roll overs on a minimal deposit starting at $100 and up to the amount the player is comfortable with.
When a player looks to deposit, they look for quick, easy, and convenient. Who has time to run around for three days finding a way to deposit? Absolutely nobody. Americas Bookie make this process the easiest in the industry. They offer many options, including MoneyGram and Western Union (both of which accept credit cards.) Smooth, and simple is the name of the game with these guys. No waiting, no giant hassle. They get the money in, and get it in quickly.
Advantages of betting football at America's Favorite Sport Bookie Online
A lot of players like to play straight up, with no bonus whatsoever. If you fall into this category, Americas Bookie is the absolute best place for you; look no further. Offering the quickest, easiest, and hassle free payouts is their specialty. They offer 1 free payout every 7 days. When you win, you get paid, it's that simple. Players are tired of waiting 6 weeks for a payout! You want paid now and Americas Bookie delivers. Smart players have more than one book in their portfolio. Keep your options open. America's Bookie is highly recommended sportsbook.
Players are excited, it's the best time of year. Every player loves the NBA and MLB but every player lives for the NFL. This is where the action is, this is where the money is. Your goal is to make money and have fun making it. Don't find yourself caught up in a rut this year with a book that won't pay you, or a book that ties you in knots with hefty roll overs. We highly consider Americas Bookie. They make promises, and they keep them.