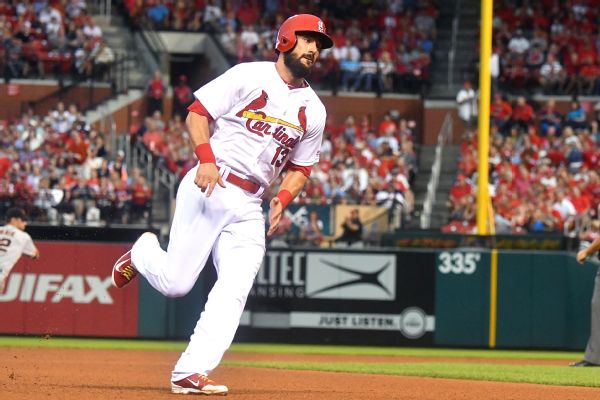 4/11 1:15 PM ET
The St. Louis Cardinals look to sweep the LA Dodgers this Thursday at Busch Stadium. Two right handers, Walker Buehler for LA and Michael Wacha for St Louis, will get the start.
The Cardinals (money line+126, total u8½-114, run line +1½-139) are currently riding a four game win streak while the Dodgers (money line-136, total o8½-106, run line-1½+119) are in first place in the NL West with a 8-5 record.
Buehler (1-0, 6.75) threw a combined 15 shutout innings in two appearances vs the Cardinals last season. In eight innings he only allowed two hits for a 3-0 victory in September.
In his two starts this season he has been up and down, allowing five runs on five hits in the season opener against the Diamondbacks but came back last Saturday with a 7-2 win against the Colorado Rockies in which he allowed only one run and three hits.
Wacha (0-0, 1.54 ERA) established himself as an ace in 2013 against the Dodgers when he defeated them twice in a six day span to clinch the 2013 NLCS. In both starts he went up against CY Young winner Clayton Kershaw.
However since then Wacha is 1-4 against the Dodgers with a 1.54ERA, and he has not faced the Dodgers since 2017. His last start this season was against the Brewers back on March 31st, when he gave up one run and for hits in six innings for a 4-1 lead, but the Cards could not maintain and lost 5-4. So far this season he has given up 12 walks in 11.2 innings pitched.
With PayPerHeadAgents.com you can offer the biggest variety of MLB betting options to your players. Sign up as an agent today and watch your business grow without any of the hassles of keeping up with your players action. PayPerHeadAgents.com offers the best online sportsbook software, get started today.
At the plate, St. Louis' newly-acquired 1B Paul Goldschmidt leads the Cardinals with 6 home runs and 10 RBI, while SS Paul DeJong has a .333 BA and .667 SLG. For LA, Cody Bellinger leads all Dodgers with 7HR, 19RBI, and a .426 BA.
As a team, the Dodgers lead the NL in runs with 89, homers with 26, and are batting at a .281 average. They have an on base percentage of .383, which also leads the league. The Cardinals are batting .228 with 92 hits and a .305 on base percentage, which is more towards the middle of the pack, although their 19 home runs ranks fifth in the NL.
On run line performance, the Cardinals are 7-1 as and underdog and 7-5 overall while the Dodgers are an even 6-6 as a favorite and 8-5 overall.
Should the Cardinals win this game, they can move into a tie with Milwaukee for first place in the NL Central. The Dodgers meanwhile are in lockstep with the Padres for first in the NL West, and a loss combined with a Padres win against Arizona would put them in second place.
Cardinals third baseman Matt Carpenter signed a two-year extension on Wednesday. He is 0-for-7 in his career against Buehler with six strikeouts.
Increase your winnings by offering casino games to your players with the best online casino software at PayPerHeadAgents.com